Autumn Awareness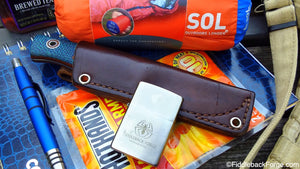 With autumn comes some big changes from the warm days of summer. Sspecially for those of us who live in the temperate zones. Along with the changing colors of the foliage, come some other changes as well. It can be a good idea to make a few easy to manage contingency preparations in advance, rather than being caught off guard by Mr. Murphy's laws and possibly putting your or your family at risk.
With the coming of Autumn come lower temps. Although they can fluctuate at first, and trick us into relaxing before they settle into being much cooler. The first day of autumn is a good day to put a spare sweater or jacket, a cheap throw, and a rain coat in our vehicles. This will help us and/or our children cope with the colder temps if we unexpectedly get caught out longer than we intended.
With the passing of the autumnal equinox also comes earlier sunsets and shorter days. So it tends to get dark during our normal hours of being out and about, while we're out shopping or having dinner with our friends and family. Along with the wallet to pay for your evening, and a pen to sign the check with, a small flashlight really can come in handy also. Dropping your keys and having difficulty finding them mostly just annoying in the warmer months, but having that same issue in the colder months can actually be dangerous, especially if it is cold and wet out.
Even if you don't smoke, having a lighter on hand can also be very helpful. Liquid fueled lighters are not only handy for starting fires, their ability to burn while free-standing allows them to serve as small portable heaters if hands have gotten chilled to the point of discomfort or danger. Plus they can also serve as a backup light source if you don't have a flashlight, the batteries die, or you just need more light on the situation.
A small ready bag of emergency supplies with; a first aid kit, some tools, and a quick improvised shelter option is a good idea any time of the year, but especially in the colder months. It doesn't take up a lot of space, and under the right conditions it could easily make all the difference between surviving an uncomfortable night, and a loved one having to read, or worse yet write, your obituary the next day.
The different seasons bring different changes to different parts of the world, at least for those of us well above or well below the equator. Whatever changes the colder months will bring in your part of the world, the beginning of autumn is a good time to make some quick and easy preparations. Choose things that will help you cope with any contingencies that might occur in the shorter days and colder temps.
---
---
2 Responses
Leave a comment
Comments will be approved before showing up.