Autumn Bewareness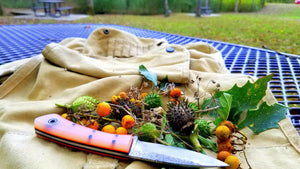 It was just a walk in the park, and that is exactly where the following illustration images came from. On one hand the herbalist in me was acutely aware of some of the dangerous plants growing around me, and on the other hand the father in me was acutely aware of the children playing near and among them. It only took a few seconds to realize the parents there were just as oblivious to the nature of those plants as their children. So I explained to the parents of the little ones, the toddlers so well known for putting all sorts of random objects in their mouths, just how dangerous some of the plants growing in that area were. That conversation became the inspiration for this article, and later that evening, after the kids were gone, I took some of these illustration images I needed to support it.


Since it is the least worrisome of the three I suppose, I'll start with the Carolina Horsenettle. Just like some of the cherry and grape tomatoes the fruit of this plant resembles, Horsenettle is a member of the Nightshade family of plants, just not one of the edible ones. It is of special concern with the little ones because all parts of the plant are poisonous due to the solanine glycoalkaloids it contains, which are very toxic alkaloids.


It does have thorny spines on the stems and leaves, which usually serve as a physical deterrent to anyone who just grabs a plant or even rubs against it with bare skin exposed. However the fruit is smooth just like tomatoes, so there is no pain when just picking the berries. With the ripened fruit being bright yellow, it sometimes draws the attention of curious children where we adults might see it as a caution sign.


Horesnettle is a invasive noxious weed that is widespread and quite prolific. If you take a close look at the fruits on the plants in autumn and winter, and pay attention details, you can see how nature sometimes gives us some pretty good clues about things. Whenever a fruit goes from flower to decay over a period of months, without being eaten in a park full of wildlife, it should be seen as noteworthy. If none of the other animals in an area ever eat a fruit that grows there, there is a very good chance that we humans shouldn't eat it either.


This next one, Datura Stramonum, is another dangerous member of the Nightshade family. It is commonly called Jimsonweed or Devil's Snare, but is sometimes called Thorn Apple due to the large sharp thorns that cover the entire surface of the fruit this plant produces.


This plant has large white trumpet-shaped flowers, that can be up to 8 inches long, so obviously bee proximity is going to be a concern for anyone with an allergy to bee stings. Yet the depth of these flowers can make them even more concerning than some other types of flowers. The bees tend to spend a good bit of time down at the bottom of these deep flowers where the stamens are. Out of sight and out of mind until they emerge.


The thorns covering the fruit are sharp, and they can be painful to contact with bare skin. They look menacing as well, and that is usually an effective visual deterrent for most adults, but the thorns aren't the most dangerous part of this plant for children the seeds are. These seeds contain high concentrations of the same tropane alkaloids that are in the rest of the plant, and then these seed pods sound a lot like a baby's rattle when they are shaken when mature and dry. Also when they are shaken, the seeds will just rain out of them. Which can be very dangerous for small children drawn to the rattling sounds up above their head. They can end up with seeds in their mouths or nostrils, just from looking up at those rattles.


This seed pod is one I found on a plant still standing in a field in the spring of 2016. It was left over from the growing season of the year before. The skin on the seed pod had deteriorated and started falling away, but the seeds within looked much the same as they would have looked the previous autumn. These seeds can fall to the ground and remain dormant for years, so they can easily remain dangerous for small children to ingest for quite some time.


This next one is Poison Hemlock. This one isn't a Nightshade, it's actually a member of the carrot family. If you've ever grown carrots, or bought bunches of them with the greens still attached you can see the resemblance in these greens, but ingesting even small amounts of these can be fatal. When they are young Hemlock plants look a lot like young Queen Anne's lace plants, which is also a member of the carrot family. But as they grow and mature the smooth stalks of the Poison Hemlock turn pale green with purple and blue spots, unlike the hairy dark green stalks of mature Queen Anne's Lace plants.


The Hemlock plants tend to have a much denser growth of flower clusters than Queen Anne's Lace, and the plant produces a lot of them. Tiny white flowers in simple umbrella shaped clusters which are less complex than Queen Anne's Lace flowers and with much less greenery present in the Hemlock flowers.


Once pollinated each one of the tiny flowers becomes a seed. A very small seed, but also a very poisonous one. The larger flower clusters like the one pictured above can contain well over 100 seeds, and a large Poison Hemlock plant can produce well over a hundred flower clusters. Much like all other parts of this plant, the seeds are extremely dangerous to ingest.


Once dried the seeds can be even more dangerous for children, much like with the Datura above, as they rattle and turn lose and fall to the ground. Children looking up at the rattling sound could easily be exposed to very toxic falling seeds that could end up in their mouths or in their nostrils.


This particular stand of Poison Hemlock, which contains hundreds of individual Hemlock plants of varying levels maturity, is on the edge of an obstacle trail in a local park. When they went to seed this autumn, these plants collectively shed hundreds of thousands of seeds onto this mound of dirt and in the immediate area. And no-one could ever know how many were scattered by wind or how far they were scattered. Furthermore, all those light colored stalks laying there on the mound will remain dangerously toxic for as long as three years from now.

The more we progress into our modern technological age, the more old knowledge about the workings of our world we seem to lose. We already know that when it comes right down to it, we can't really count on anyone to look after well us but ourselves, after all it's our job and not usually anyone else's. The same goes for looking after the well being of our children, because no-one is going to love and care about them the way we do. So it can pay to have an understanding of the plants growing around us in our green spaces. Some of the ones that produce some of the prettiest flowers, can be some of the most dangerous for our children to come in contact with.
---
---
Leave a comment
Comments will be approved before showing up.