Back to Baxter: A Story of Then and Now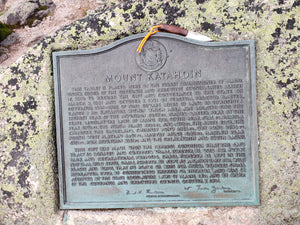 The year is 1999. Britney Spears burst onto the scene with "Hit Me Baby One More Time" and Keanu introduced us to the artificial world of The Matrix. We were less than a year from the anti-climactic Y2K panic and new millennia. In August of 1999, I was enjoying a great summer off from my freshman year of college and some new-found freedom from an ex girlfriend. My good friends from high school, Nate and Frank, were interested in hanging out again and we were all looking for an adventure. After high school, we all went separate ways but what bound us as friends was the interest we had in the great outdoors and that would unite us again for an epic road trip to Baxter State Park and summiting Mt. Katahdin. That was then. That was over 20 years ago when I was just a teenager who was looking for direction. Since then, I only returned to that part of Maine once in 2003 to summit it again. Now, it has been 17 years and so much has changed in my life. Now, it was time to go back, it was time to seek out adventure again, it was time to give into the draw of the mountains.
Mt. Katahdin sits at 5267' and it is the highest mountain in the state of Maine. It isn't the tallest mountain this side of the Mississippi River as that distinction goes to Mt. Washington one state over with an elevation of 6,288'. Don't judge a mountain by elevation alone. Keep in mind, there is a road to the top of Mt. Washington and there isn't one going up to the top of Baxter Peak on Katahdin. Mt. Katahdin is an imposing silhouette on the wooded horizon and the mile-long trail from Pamola Peak to Katahdin's is appropriately called "the Knife Edge" as the trail is as narrow as a sidewalk in some parts, highly exposed, and features perilous drop-offs on both sides. As a 19 year old back then, danger was all I needed to hear about to drive over 7 hours from home. That trail lived up to the hype as Nate, Frank, and I reached Pamola peak after hiking hours along the Helon Taylor Trail exhausting ourselves in the process. Walking a mile is no problem for most but when you are carrying a pack (incredibly overloaded by the way), out of water, tired, sun-burnt, and trying to get back to your vehicle before sunset, it is certainly a challenge. 21 years after my first trip to the summit, I wanted to reach the summit again.
A lot has changed since the summer of 1999. When I originally hiked Mt. Katahdin, I towed along a heavy hollow-handled Buck Buckmaster survival knife. Back then, I was still about 11 years away from sending Andy Roy a sketch of the KE Bushie. After this hike, I started looking at more custom knives and using smaller and smaller blades for my personal use as my skills improved. Back then, I was a college kid working at Eastern Mountain Sports largely for the purpose of getting gear discounted. Now, I'm fortunate to be in a position where I have access to some fantastic companies that sponsor me and provide me gear to use with students in my courses. I never knew, back then, who I would be today. Back then, I was an undeclared major at Fairfield University. Now, I'm a public school history teacher who found a passion for educating others. Since 1999, Nate and Frank have moved to Colorado and California and I hardly see them anymore. I'm still friends with both but our lives have taken us in different directions. Back then, I thought I knew so much about the world and after 2 decades of travel, I know my past self was so very wrong. All of the knowledge that comes from experience has taught me there is so much more knowledge I'll hopefully eventually acquire; with time of course.
As cliche as it sounds, the more things change, the more they stay the same. Maine is just as rugged now as it once was back then. The drive to Maine hasn't gotten any shorter although GPS technology helps avoid construction and accidents. Back then, technology didn't exist to point us in the direction of great eateries along the way. The little annoyances forgotten or outweighed by the good times are still there such as the lack of phone service and the relentless buzzing insects that disregard deet in any percentage. As crazy as it sounds, the smell of the northwoods, rich with evergreens and devoid of urban and suburban scents, is exactly how I remember it. Back then, Nate, Frank, and I hiked to a great spot called "Little Niagara" and "Big Niagara" where hikers use the smooth granite rock as a waterslide. Now, it was exactly how I remembered it and Amanda and I were the only ones in this pristine swimming hole for an incredible morning in between hikes to Chimney Pond and the summit. While some of the gear I carried as a teenager, more captivated by the form than the function, has disappeared, some accoutrements remain staples and their quality has improved. While I was perfectly fine eating a cheap grocery-store steak grilled (read "ruined" and "overcooked") over a grill while smoking a Swisher Sweet cigar back then, I now buy better cuts of meat from trusted butchers and smoke much finer cigars. With age comes refinement. What was acceptable as a teenager is not so much so for a middle-aged man. On this most recent trip, I traveled with Amanda, my girlfriend, and appreciated the company, conversation, and shared laughs like before. We stayed in the same general area as I did two decades before and I was able to play tour guide sharing the beloved places in my memory with her. I was able to relive the excitement of being in the rugged beauty of Maine by seeing it in the expressions on her face. 
Mt. Katahdin is estimated to be 400 million years old. My history on the mountain is barely a blip on the lifeline and this granite mountain will be around long after I'm gone. Now 20 years from my teenage years and with more scar tissue from years of activity, the hike to Katahdin was different but I felt stronger than ever. I brought more water, had a GPS to remind me of how much distance was left to travel, and I was able to identify more edible and medicinal plants along the way. I felt more comfortable and not intimidated at all like I once was. I never lost respect for the mountain and what it could do but I felt more capable if the trip went sideways.  Amanda and I took the Hunt trail that requires 4250 feet of vertical gain over 5 plus miles. With a near 11-12 mile round trip, we were tested but it was worth it when we reached the top and when we made it back to her car at the bottom. I'm left to wonder if I will be able to do this hike in another 20 years. It's interesting to think about your place in the universe when atop something like Katahdin. In 1999, I couldn't tell you what 20 years felt like because I didn't live it yet. Now, I can recall that period of time easily. Back then, I recall being able to hear my heartbeat in the silence the mountain provided and realizing how insignificant that mountain made me feel. Now, more accomplished, grounded, and significant in my circles, I still felt that sensation and actually welcomed it again. It's so easy to get lost in the world today and sucked into the maze of social media. Driving 7 hours and hiking 4 more helped me find out more about myself than an equal amount of time online couldn't.
Now, I'm already planning on going back to Katahdin but I won't wait another 20 years. This time around I learned about Double Top Mountain, a smaller mountain but one with an equally enticing trail, that I want to hike next time there. I learned about camping along the Golden Road and new campsites available riverside. With so many acres of rugged wilderness, I could travel back to Baxter for annually for years to come and not see it all. I'm ok with that and am just happy to see what I can.  Mt. Katahdin and the surrounding Baxter State Park have so much to offer the outdoorsman. It's truly THE place to test yourself, your gear, and your training in an authentic untouched destination. From hiking to fishing to hunting and boating, Maine is the "Alaska" of the East Coast. Each time I travel to Katahdin, the experience imprints so many incredible memories in my mind. Then, now, and always, this wilderness will excite and inspire me.

---
---
3 Responses
Leave a comment
Comments will be approved before showing up.