Blood. Sweat. Years.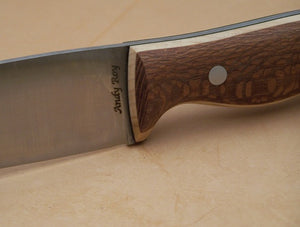 Ten years ago on May 1 2009, a Friday of course, at about 3 pm I was called into my bosses office at CAB Incorporated. They laid me off. I knew it was coming, but let me tell you that every layoff is a kick in the nuts. There were no jobs to be had for electrical engineers in our area, and Leah you will remember has always had the better career anyway. (She's a better cut of human than I am, and as such is way more employable.) We were not going to move for me to chase a job. So I decided to go full time with my two year old hobby at Fiddleback Forge.

Now I have worked hard, but the real credit for me making ten years as a full time knifemaker goes to y'all. The people I have met through this [career] have been like family to me. Many of you have traveled to come to events with us here, and we literally love you like family. So I wanted to than you all for your success at making Fiddleback Forge an acceptable carreer to my wife. Without her, and y'all there would be no Fiddleback Forge. I am forever indebted to all of you.

Thank you.
10 years and 1 week ago...I finished these knives. One week prior to going full time.
Scroll through today's Fiddleback Friday previews and hopefully you'll notice a few improvements over the years.
https://fiddlebackforge.com/blogs/news/fiddleback-friday-5-3-19
---
---
1 Response
Leave a comment
Comments will be approved before showing up.