Bugout On Foot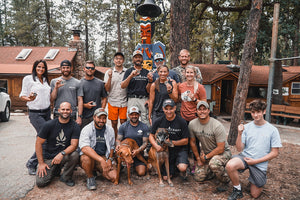 If you're someone who participates in survival discussions, you've probably heard of the term "bug out". Bugging out has been popularized by movies like "Red Dawn" and books like "The Road." You may have entertained ideas of running to the hills or what you would do if some sort of emergency made its way to your front door. There may be a particular event you're readying yourself for the decision to leave your most valuable investment (your home I'm assuming) and risk your safety to get away. Recently, I had the opportunity to be a guest instructor at the Fieldcraft Survival Bugout On Foot Course in Prescott, Arizona. This course was designed to teach students the reality of mobility on foot and better prepare them with approximately 70 hours of instruction and practical field exercises over 5 days. The students participated in an extensive after-action report and now have a wealth of takeaways and this month's blog is meant to share some of the most important ones with you.
1. Monitor Conditions and Kit
The Bugout On Foot Course was staged as a scenario where students assumed the role of "Missionary workers" in a fictitious country called "Cactus Land". During the course, students were told an enemy force called the "PLG" were growing increasingly hostile. Students started the week with a gear dump to help their colleagues learn what they carried and what was needed in the group. During this gear dump, a fake warning bell was rung and students rushed to pack up their kit thinking the time to bugout was upon them. A great lesson this taught them was the idea bad things happen at the worst times. The practice of staging gear and knowing its condition is important. Having an awareness of kit allowed students to shorten their response time to the bugout. Students received updates about the growing hostility of the PLG and staying alert became increasingly more important as surveillance and counter surveillance lessons were presented. Perhaps one of the more popular lessons of the week was the Kim's Game memory game and then spotting scope observation lesson when students had to find previously seen objects hidden in a given area by scanning for them with a spotting scope. This course of instruction was under the watchful eye of a former Green Beret Sniper Instructor. This lesson and others were designed to teach awareness.  If you have a potential reason for bugging out, it's advisable to keep tabs on it with whatever technology is available to you.

2. Have a Route and Contingencies
Bugging out means leaving home and heading somewhere. If you have a destination, you should have a good route to get there. You should have this figured out for on road by vehicle as well as by foot. You should have multiple routes for each if a section along the way is blocked or otherwise impossible to travel through. Your bugout location may be the same choice of retreat for others. Always have contingencies. Something the folks from Fieldcraft Survival stress is the P.A.C.E. acronym. P.A.C.E. stands for Primary, Alternate, Contingency, and Emergency. These options should be lined up and understood for bugging out. If your GPS fails, you should have a route lined up on an old-school map and compass. If you lose your map, you should have another means of recording the trail like a spare copy or photocopy. In an emergency, you should rely on your memory after a lot of practice. All of these routes should be confidential and you should take care not to leave them out or behind for others to follow. Students were taught how to read map and compass and navigate around obstacles using near and far hand/body signals. If there is something you should remember about bugging out, it is nothing will go as planned. You can expect changes, hiccups, and roadblocks. Be flexible and avoid fixating on previously planned courses of action. Learn to adjust problems on the fly.
3. Pack Appropriately
I had the advantage of knowing how long the bugout on foot course would last. I was able to pack light to allow me to keep up with the students and have room on my back in case I had to carry one of their packs (which happened on day 2). Many students carried a lot of gear, almost too much by most of their accounts after the fact. A perfect example is sleeping equipment. After the initial bugout, most students ended up sleeping on the ground in their clothes without setting up any formal structures. Tents and sleeping bags remained in their packs and tree roots became pillows. Depending on how far you have to travel, your physical conditioning, the weather conditions/environment, and defensive needs, your pack can reach the 15% to 20% max weight suggestion quickly. Your kit should be secured to prevent losing it weaving through the underbrush, running from time to time, and brushing up against rocks. Your kit shouldn't just be carried in a backpack. You should spread out your tools and gear in your pockets, on your belt, and in your pack. If you get separated from your pack, it shouldn't be the end of the world. You'll need to know what items can be carried overtly and what items should remain covert. Some gear, like knives, are best carried concealed. Additionally, what you carry will be dictated by your mission. Many students commented on wishing they packed more water than they ended up carrying. Some students believed they needed more shelter components than water and some planned to fill bottles along the way. As it turned out, having water already packed was key. Who would have thought, it's only the high mountain desert right?
4. Build a Team
During the Bugout On Foot course, the students were broken down into two groups. These two groups were occasionally challenged to face off against one another. The groups operated with a different leader from their ranks and picked by the instructor cadre each day. While the focus of the course was bugging out, a great deal of emphasis was placed on teamwork and group dynamics. There are only so many resources you can carry on your own. Remember the movie Red Dawn? The characters worked together as a team. In the novel, "The Road", the father and son worked as a team. Perhaps your team starts with your family members. Perhaps it extends out to your neighbors or your hunting buddies. During the Bugout On Foot Course, students worked to pull security at camp. They had rotating shifts standing guard and divided up the workload. Having a team that shares capability means you have people to fall back on for a second opinion. You may have an issue with a piece of equipment like a compass but a teammate may have a functional unit. The same teammate can take a second set of readings to ensure the compasses read consistently. The team you build must be disciplined. As the students on this course found out, sound travels easily at night and any volume above whispering could be detected through the woods. With enough training, a teammate can even predict when and how other members will act when given a stimulus. Many hands make light work is an old expression that holds true in the bugout scenario too.

5. Train and Rehearse
The students on this course were not given much time to practice and rehearse their bugout plan. You on the other hand, can start now and hopefully you won't encounter a reason to bugout in the next 5 days. We learn from our mistakes and those are the lessons not easily forgotten. As an instructor, it was my goal to push students to their limit and let them see where their plan would fall apart with more layers of difficulty. Training is the key to making complex operations seem less complex. A fighter pilot can identify buttons, lever, and gauges under stress. A world-class pianist can work multiple keyboards at once with enough training. Walking from point A to point B doesn't seem as difficult as dogfighting or performing in concert but when variables like injury, roadblocks, compressed time, and hostile actors are introduced, plans can go out the window. For many of the students on this course, this was the first time they practiced a true bugout with minimal supplies. Just like ripping off a bandage, they got the initial mistakes out of the way quickly and they learned how to self-correct what they did wrong. With each evolution of a bugout, the execution of the plan becomes stronger and easier. I have no doubt the students in this class will begin to practice what they learned and they will have no trouble bugging out if they ever had to. I worry so many people in our society will never think about the scenario until they have to and by then, they will be behind the power curve.


Bugging out doesn't have to be reserved for occasions when the communists parachute into our backyard or when nuclear winter sets in. As current events have shown us, bugging out might be the better option to respond to a natural disaster, civil unrest, or even just from a stranded vehicle on a distant backroad far from rescue. No matter what the scenario, you should have a plan, you should have training, you should have the willingness to move. Courses like the Bugout On Foot by Fieldcraft Survival are excellent to transition bugout theory to reality. Practicing the lessons from this course makes you more ready for the day when your training becomes real. In this way, we can stay ahead of the power curve, get off the "X", and bugout to safety. 
---
---
2 Responses
Leave a comment
Comments will be approved before showing up.