Common-sense 1911 Pistol Upgrades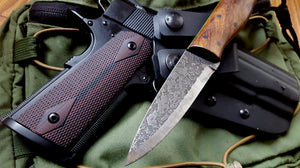 On April 20th, 1897 the Colt firearms received the patent for a handgun that would become an American icon. In 1911, the United States formally adopted the automatic Colt pistol into it's arsenal. To this day, no other handgun has had a longer career in the hands of our armed forces and there are many firearms aficionados who believe no other to be finer. For more than 100 years, the venerable Colt 1911 has changed significantly from the standard military issue handgun into highly modified customized variants today. With so many upgrades available and countless aftermarket parts, the decision of what to buy and why can be complexing.  Since April is the anniversary month of this pistol and my birthday shares the same day, I figured it would be as good a time as any to make this the focus of my Fiddleback Forge Blog post.


Improved Trigger
The 1911 is known for a very predictable single-action trigger. The feel of that trigger will vary greatly from standard rack grade pistol to custom match grade. How much "creep" or take up can be adjusted and modified by a competent gunsmith. The same goes for the amount of pounds needed to pull the trigger until it fires. Accuracy really only comes down to a few variables and you always hear trainers spout off "Sight alignment and trigger control". It makes sense to throw a new trigger in your stock pistol if you want to see better performance. A word of warning though, make sure you don't carry a pistol with too light of a trigger. Also, don't try to prep a light trigger the same way you do with a safe-action pistol or double/single action pistol. Before you know it, the trigger will drop the hammer.


Improved Sights
The most basic 1911 sights consist of a standard front post and minimalistic rear notch. The military pumped out pistols quickly and needed simplicity but as a civilian 1911 owner/shooter, you may want something more visible, brighter, and adjustable. Depending on your interest, you can go with tritium filled night sights that will help you achieve a better sight picture at night. You can also go with target sights that have a skinny front post and rear adjustable notch that allows for windage and elevation changes. Whatever you choose, make sure it is appropriate for your purpose. On my personal 1911 I elected for a set of low-profile Novak sights that have a reputation for being snag free.


Better Magazines
Once you have better sights and you are satisfied with your trigger pull, you will probably want to upgrade the magazines that come with your pistol. Traditionally, the 1911 was designed to hold 7 rounds with one in the chamber making the total capacity 8 rounds. Since 1911, technology has improved and there are some excellent choices that increase the round count to 8 plus 1 as well as 10 plus 1 options. Many times, the magazines provided with 1911s suck. Invest in Power Mags or Wilson Combat mags if you plan on carrying your pistol for self-defense or duty. Look into magazines with a slightly extended base pad that will make reloading easier. Test your magazines with various types of ammunition including standard ball and hollow point. Make sure it will reliably function and feed each round.


Match Grade Barrel/Bushing
The next upgrade comes with a trade off. How much reliability are you willing to give up for an improvement in accuracy. 1911s can be finicky creatures. As the pistol becomes tighter with tighter tolerances, the original looseness of the pistol designed in 1911 decreases. That original looseness allowed for the frame, slide and barrel to function with grit and dirt in it. As you tighten the pistol fit, the tolerances change and with enough build up, the pistol could cease to fire. That said, if you weigh the risk/reward of a match grade barrel and bushing and elect to add one, you'll notice your pistol will be more accurate. I recently asked Jody Joseph from JoJo's Gunworks to add a Kart Precision National Match Barrel and bushing to mine and the pistol is even more accurate than before. As long as you do what you have to do in terms of creating a stable shooting stance/framework, you will notice an increase in accuracy at 25 yards. Believe it or not, you will also find as the barrel heats up, breaks in and gets tighter, the accuracy will get even tighter. Kart barrels, by the way, are my top choice for match grade performance.


Grips
This last recommendation is part cosmetic and part performance. Traditionally, the 1911 was supplied and issued with either wood or plastic grips. These grips were simplistic and unless you're the type that finds beauty in what some would consider boring checkering, they don't offer much to the eye. That said, there are some fantastic companies that produce aftermarket grips that won't shrink, swell, or get damaged as easily. These grips are made from some of the best materials out there including G10 and Micarta as well as some stabilized woods for appearance. In addition to looks, the textures can range from very aggressive to smooth for shooters who prefer more retention or a cleaner appearance. On my personal 1911, I run grips from VZ Grips and I use the Tactical Double Diamond pattern to give my pistol a traditional look with modern materials.


Much like a Fiddleback Forge Knife can be appreciated for its beauty, so can a nicely finished 1911. Both Andy's knives and modern 1911s blend classic styling and modern touches into a very functional tool. For those who like to match their Fiddleback Forge Knives with custom ferro rods, you can add another factor into your coordination game with a properly customized 1911. When you have so many options to upgrade your 1911, remember the advice of this blog and think logically to create a truly personalized piece of American firearms history.

---
---
Leave a comment
Comments will be approved before showing up.