Considerations at Elevation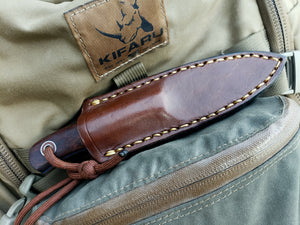 In early June 2021, I was invited by my friends at Kifaru to join them on a backpack fishing trip to the high mountains of Colorado. If you're not familiar with Kifaru, it is a company known for opening up the backcountry with their lineup of backpacks, sleeping bags, ultralight shelters, and hunting accessories. The company is led by Aron Snyder, a modern-day traditional bowhunting legend along with a team of employees that live the mountain life and who can often be found in the mountains at elevation. Kifaru is situated just outside of Denver, the mile-high city. Compared to my home state of Connecticut where I lived for many years at elevations ranging from 131' to 390' feet, the elevation of Colorado is significantly greater. What we consider mountains on the east coast, Coloradians think of them as molehills. Even though I moved to UT in January and have lived at 4524' and work at 5587', the trip with Kifaru would take me to double that elevation and help me identify some considerations at elevation. I can only imagine what this trip would have been like if I didn't have half a year to acclimatize. As you'll read, when you travel to greater heights, you need to be aware and consider some of the possible effects on your body and trip you wouldn't expect at lower elevations.

Hydration
Proper hydration is important at all elevations but especially so at higher elevations. The air is dry, the sun is powerful, and if you're not careful, you can dehydrate quickly. Our bodies require water to keep our eyes from drying out, to surround our brain with a protective fluid, and to keep our internal organs happy. Dehydration prevents us from performing at our peak. For this reason, while hiking with Kifaru, I limited the amount of caffeinated drinks I consumed in camp. I made sure instead to have rehydration supplements on hand as they do help your body retain water.
A serious consideration at elevation is locating water since water runs downhill and high-volume creeks and rivers may be few and far between. We camped near a frozen lake that made our fishing difficult so we lucked out in terms of water availability. Should you find ample water like we did, you'll need an effective way to treat it whether that is chemical drops/tabs, filter, or Steri-pen. Boiling may not be possible with wood stoves/fires but it is with canister stoves. Keep in mind, water is approximately 8 pounds per gallon. How much are you willing/able to carry?

Sun Protection
The sun is over 94 million miles from earth. It doesn't seem like a marginal increase in elevation would cause much concern but in fact, it is. As we climb higher from sea level, the protective atmosphere thins out leaving us more vulnerable to the rays of the sun. A good hat, long sleeves, sunglasses, and sunblock are all important considerations to prevent sun burn. While it may not look as cool as a baseball hat, a wide brim hat will protect your neck. A face covering (you should all know what a Buff is after a year of wearing them during COVID 19) is an excellent option for protecting your nose and cheeks. Lips get chapped easily and eyes strain from brightness. While I was in the mountains, my sunglasses were with me during the brightest hours and I made sure to use chapstick anytime I ventured out from under my tarp shelter. Take sea level recommendations for sun exposure with a grain of salt. If you start seeing skin turn pinkish, find some shade. 

Health Side Effects
Back in the early 2000's, I traveled to CO for the first time on a ski trip. I found myself short of breath even hiking up a flight of stairs. It was unnerving as I was not out of shape and it was only a flight of stairs. Elevation can lead to strange feelings like nausea, headaches, and shortness of breath. In extreme cases, your body may develop high altitude pulmonary edema which can be debilitating. Elevation can affect people in different ways and you can't know for certain until you know. Depending on how severe your body reacts, you may require specific medication or dropping in elevation which may translate to ending your trip early. There are some incredible destinations at high elevations but you must always remember your final destination for your trip is back to your ride at the trailhead. Don't get stuck up high.

Traveling Time and Weight
Most hikers and backpackers can tell you how far they can travel in an hour. Personally, I average about 2.6 mph under a heavy pack. Aron and Frank are "one-speed warriors" on the trail and they are seriously fast movers at elevation and under heavy packs. It's impressive to say the least. For all of us mortals, we can be certain our traveling time will be affected by elevation. As you plan your route, factor in extended time for frequent breaks to catch your breath.Check your pulse during these breaks and don't set yourself up for a heart attack! Travel only as fast as you can within the max heart rate you're comfortable with. This will help you decide how far you can travel in a given amount of time and what realistic expectations are for multi-day trips. There is an old expression, "ounces become pounds and pounds become pain." As the weight of your pack increases, the likely total distance of your trip decreases in a given amount of time. One of the reasons I chose to camp with minimal kit (Tarp, Tyvek ground cover, pad, sleeping bag) is because the extra weight of more substantial shelters will seriously slow me down. On trips like this, a Fiddleback Forge Hiking Buddy makes more weight sense than a KE Bushie.

Fewer People
Not all considerations are negative or worthy of concern. It's easy to focus on the negative when you know the trails are going to be tough. That same toughness is the reason the trails will be less populated than the easier ones in the valley and/or closer to sea level. The idea of discomfort will keep people away making the experience you have very personal and private. Spend enough time on trailheads that attract the masses and you'll know why peace and quiet is worth the discomfort. The further you push into the backcountry, the more the numbers of people drop off. Perhaps that is the most important consideration. Maybe the juice is worth the squeeze on trails that push us harder. I know we were rewarded with some incredible views along our hike and some I documented in photos. Others I just soaked into my memory. I'll continue to push myself to higher elevations like this because this is where some of the most incredible memories are made. Consider that. 
---
---
Leave a comment
Comments will be approved before showing up.