Contingencies 201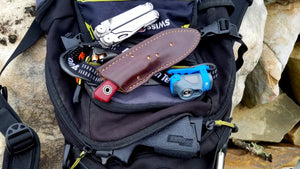 The end result of all of our experiences in life, provided we survive them and pay attention, usually involves at least one lesson having been learned and maybe several. I am blessed, and very fortunate, that I have lived through enough of them in some fairly deteriorated circumstances that I get to teach survival workshops professionally, it's something I've been doing for some time. lately I've found myself teaching some pretty intense lessons I hadn't thought much about the several years, some I haven't intentionally taught since right after the events in New York City on September 11th ,2001. 
Most of the knowledge I have and teach is thanks to my father teaching me when I was young. He was a U.S. Marine who grew up during the great depression before going off to fight in Korea. Under the constant geopolitical tensions of the early 70s, he taught me to have effective contingency plans. In fact, with me being born during the height of the cold war scares, he drilled those thoughts into me until they became mental muscle memory. First at home growing and storing food and water, and always keeping first aid supplies on hand, he taught me the concept of prepping long before it became fashionable. As well as in woods and swamps of the southeast U.S., as he taught me to fish hunt and trap. 
Later the training became more urbanized on the streets of Tampa and Miami Florida. There he taught me how to prepare for Hurricanes, and showed me ways of coping with elements of the aftermath. So 40 years later, and even when wearing pajamas working remote at a motel, there are always specific contingency items in my pockets or near by. Most of the items I carry are self explanatory. A knife for cutting, multi-tool for multi-role, and light for light obviously. In emergencies I prefer two. A headlamp for moving hands-free, and a torch for looking for things. The compass actually came from a poignant lesson in just how disorienting the turmoil of a natural disaster can be. The chopsticks aren't just for eating, among other things they can also be used to move or pick up things I don't want to touch.
Not all of the contingency plans Dad taught me to consider were in regards to natural disasters or even major emergencies at all. Many of them were just about becoming self reliant in general, and being prepared to tackle daily life. Thus contingency planning became an organic element of my life, for the most part happening on a subconscious level. For instance when I go out for dinner, even alone, I am essentially always prepared to neatly share my food with someone if the need arises. It's just the way I was raised. And I make a point of having cash on hand as well. Just in case the card readers go down, or if my dinner company and / or myself want to leave quicker than paying with plastic would allow. But having cash on hand also comes in handy during a power outage.
Yet all of Dad's lessons combined with  a lot of others I've learned do tend to comfort me when I find myself facing the not-so-normal days. Days like the recent ones we find ourselves caught up in, when tensions mount publicly and how things will go is anyone's guess. Because even though the city I work in doesn't suffer from the levels of tension seen in some other places in our nation, one never knows what may occur when dynamic crowds of people are gathered en masse in the streets. In cases like these, having seen what crowds of scared people are capable of, I prefer to travel very light so I can move quicker and fit through tighter spaces. So I leave the pack behind and only take what I can carry on my person.
During a recent impromptu class, the students were surprised that some of the items I carry daily have been considered for their potential usefulness as tourniquets. Particularly the camera strap, and a small umbrella or a section of tripod leg. There are other items I carry that have also been considered for the same use, and other items that aren't pictured here, like my preference for having plastic water bottle over a metal in an urban environment, but the reason for that will be discussed in another article.
If you've read some of my other works you may have noticed I prefer parking in garages over street parking given a choice. That's primarily because I live in a temperate rain forest, and the cover allows me transition my equipment from the vehicle to my body and vise versa without the interior of the vehicle getting soaked in the process. But that's not the only reason. Another is that more higher-speed accidents happen on streets than in parking garages, so it only stands to reason that I and my vehicle are both safer parked inside a building. Plus as an added bonus it that helps prevent situations like the one pictured above. Where the persons vehicle in the center right was blocked in by a protest event, and stuck in the melee for a while.
Height is another advantage the taller multi-level parking garages offer. They allow for a vantage point 80 or 90 feet above the street-level noises and even above some of the other buildings in the vicinity. Which affords better opportunities to see and hear things from a greater distance. In this case I could easily locate the ever-present drones in the sky over the city, and know where the protest was. The circled lights were drones over a park seven blocks away, two blocks the other side of those tallest buildings in the image. There were actually a few more drones in the sky that night, and the more of them in an area the more interesting the event they are recording, but these three lights on at once was the most I was able to capture in a single image.
The effectiveness of some contingency plans is just about knowing the environment your in, and knowing how to quickly change direction of travel if the need arises. Knowing about cases like this, where an entire roadway is blocked by chain link fencing in the general vicinity of a protest march, can prevent one from being caught in a cloud of tear gas if it gets deployed because you'll already know which ways to not go. I was glad I'm familiar with the area around our courthouse, the one time our Sheriff's Deputies deployed CS gas. I was on foot a block away and walking into a stiff breeze channeled between buildings, and knew the gas was going to come my way as soon as I heard the pops and saw the cloud. Luckily I also knew there was an alley to the left and changed course without incident. Then I came at the courthouse via a route perpendicular to the wind.
I've seen some pretty crazy occurrences, and more violence than I care to dwell on, so moments like these make me really appreciate the lessons I've learned in coping with deteriorated circumstances. Yet one of my favorite lessons so far is that I have come to believe Mr. Franklin was 100% correct in his philosophy on prevention and cure. Life is too short to not live it, but our world can get a little crazy now and then. So know your areas, be prepared, and be safe out there.        

---
---
Leave a comment
Comments will be approved before showing up.