Happy Thanksgiving!!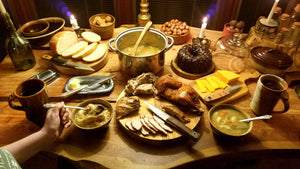 Because our lives can be so hectic and frenetic, it can be easy for all the marketing hype to get to us this time of year, and thus cause even more stress as we enter the holiday season. There are so many people vying for our Christmas money that it can leave us breathless and feeling guilty that we cannot afford to just buy all of the things that our children and loved ones see and like. Yet the reality is that most of us can't afford to buy it all, even if we wanted to, and odds are that no-one really needs to be buying it all for lots of reasons. Most of us don't need all of the bright shiny colorful things we are bombarded with every year at this time, but most marketing firms use our own human psychology against us in order to convince us that we do, at least temporarily...long enough to make the purchases, which tends to lead to even more stress afterwards. Which in turn can rob us of being able to appreciate the actual point of this season. So, for the past few years, I have sat down before Thanksgiving day and made a list of all the things in my life that I am very grateful for having been blessed with receiving.
This year I have been able to do more work, and do more writing as well, than in the previous few years now that some of the biggest struggles of 2017 and 2018 have been defeated, and I was able to once again reinvent myself on a personal level and move on. Which reminds me of a time a dozen years ago, when the housing bubble busted and I had to leave the only industry I had known for more than twenty years, and reinvent myself career wise at the age of forty-three in order to be able to take care of my family. I was very nervous at the time, but I was also very blessed to have my oldest daughter there for me at the time. We were both entering new adventures in life, and we would go out and face our struggles together. I was working on turning my hobbies of photography and writing short stories into a way of entertaining a larger audience in hopes of it somehow helping me supplement my income. I really miss the days when Sarah was in middle school and would practice her flute and play for me as I first began to practice some new photography techniques, to be able to offer something different than others were doing at the time. I was pretty stressed out a lot of the time then, as my youngest had just turned three and I was feeling a lot of pressure. But looking back from here where hindsight is 20/20, I see just how blessed I was to have been given those days. I am very thankful for those special memories, ones I hold onto to this day when times get tough.
In the spring of 2012 I spent a lot of time wondering the woods with my youngest and watching the looks of wonder cross her face as she discovered the world around her. Then later that year, through the summer and autumn, I was a thousand miles and two states away in Florida, hanging out with my father during his last few weeks in this life. I would spend the days working alone in the swamps and along the coast, in all the areas he had raised me in as a child remembering those days. Then I would spend the evenings sitting and talking with him about life. During the saddest times, pictures like the one of my youngest above would remind me of the best days of my childhood and all the lessons my father was there for with me, and it would help me smile through the pain knowing I am my father's son.
Today I keep this picture of my two daughters and my grandson on my phone to help me maintain perspective. To remind me of what is most important in my life on those days when the weight of the world seems to come crashing down on my shoulders. And that is the happiness and smiles of those whom I love so dearly, as I can see in the expressions on their faces them loving me in return.
And I keep this one with me as well, and for much the same reason. To remind me that happiness doesn't lie in all the grandiose plans we make for our futures, it lies in the simple things we do on our journey there. It reminds me that it is the love we feel for those whom we spend our time with that defines the quality of all the moments of our lives that we later remember. It reminds me that how we feel in those fleeting moments in time, can turn some of the most simple of life's pleasures into the greatest memories we will ever know.
J.R.R. Tolkien once wrote some words of great wisdom, spoken by Thorin Oakenshieled on his death bed, that if more of us valued food and cheer and song above hoarded gold, it would be a merrier world. This is true, for me at least, for no amount of money that I've ever earned has ever warmed my heart in any way. Yet a few merry toasts made in moments of great happiness have made it swell with warmth beyond my ability to describe in words.
So tomorrow, as we sit down to our Thanksgiving dinners, lets all take a moment to look around at the smiles of those whom we love and hold dear, and remember why we do all that we do and why we work so hard. Let us take some time during the day to do some little something that makes someone we love smile brightly. Let us all take some part in making our world a merrier one, and have a very Happy Thanksgiving.  
---
---
4 Responses
Leave a comment
Comments will be approved before showing up.