Hiking Buddy at Deer Camp...Hunting for Fajitas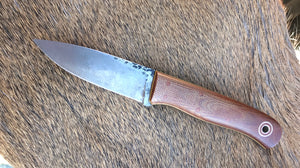 written by Matt Westendorf
Warning: if you find images of wildlife conservation activities, hunting wild game, harvesting meat, or eating delicious animals...or if you just hate fajitas...turn back now.
Hunting for Fajitas
Life has been a little hectic since deer camp between work, home life and prepping for the arrival of a new baby here in early summer but I finally got a chance to put my Hiking Buddy to work at deer camp last Fall.

OK back to the hunt. In typical fashion, I bring more knives on a hunt that one guy needs but hey, is there such as thing as too much cutlery? Each morning I go out I grab a different knife and take it to the field with me and should I get luckily enough to harvest a deer, that is the knife that gets field dressing duties. Opening day I saw a lot of smaller does, spikes and yearlings - I was covered up in deer most of the day but I didn't want to take a smaller deer early in the season so I held out, we had some nice bucks on camera so I rolled the dice.




The second morning of late season I was sitting in a stand we call the "Ridge Stand", which overlooks a deep draw with a small creek running at the bottom of it. Shortly after the sun was up, I caught some movement down in the bottom of the draw, a nice coyote was headed my way. He was on the move and I knew if he didn't decide to come up the ridge, I would never have a good shot at him. As luck would have it, he got almost parallel with my stand and turned on a 90 and headed right up the hill towards me. I settled the cross hairs on an opening about 12 yards from my stand and dropped him as soon as he was in the crosshairs. I've hunted deer for about 19 years now and this was only the second opportunity at a coyote (season open year around) that I have ever had. I blew the first one with a clean miss - I made up for it this time.

That morning I had happened to grab my new JX-6 Chris Tanner/Bark River collaboration knife so it pulled skinning duty on the 'yote



I hunted the rest of the morning, saw a few more small does and had a spike buck under my stand for a goo 6-8 minutes before he moved on but didn't have an other opportunities. Day 3 of the opener was more of the same - smaller deer so I passed.

Second season got off to a quick start and guess what I had in my pocket? Yep that is right, the Hiking Buddy. I was back in the Ridge Stand and once again I caught movement heading my way, this time I could tell it was a pair of does. They worked their way towards me, milled around in the creek and then the larger of the two headed up the hill in almost the same place the coyote did a couple weeks earlier. I had hope she would cross broadside in front of me like the coyote did but she was on a beeline straight towards the stand. As she closed the distance, I made a decision to take a headshot before she got in too tight that I couldn't get a shot off. The shot hit home and she crumpled and tumbled down the ravine - I now had my work cut out for me, getting her back up to the top.




Recovered from the creek, the good side - shot entered her eye socket, traveled down her neck and took out a lung.



Resting part way up the ravine - she made me work for it



Made it to the top, time to get to field dressing

Every since trying venison heart for the first time a couple years back, I am always grateful when one survives the shot. This one was perfect and was destined for fajitas.


The Fiddleback Forge Hiking Buddy
For me the Fiddleback Forge Hiking Buddy is a fantastic little knife for field dressing duties. For whitetail sized game, it's in my preferred size range - not too big - not too small. Plenty of handle to get a good grip but compact enough to work inside the body cavity easily. It ride great on a belt, in a pocket or in your pack. It's everything you need in a smaller sized field knife and nothing you don't - just the way I like it. The Hiking Buddy has earned a spot in my permanent deer knife rotation along with all the EDC belt time it gets.


Deer Heart Fajitas
Above I mentioned fajitas so let's get onto the pictures of the cook - homemade corn tortillas, homemade fajita seasoning over strips of venison heart cooked on my new plow disc cooker. These things were incredible.

First up - the tortillas.

Disc coming up to temp

The heart, ready to be prepped



Everybody in the pop getting happy



Finally, the reward

If you made it this far, thanks for hanging in there with me.
---
This post was written by Matt Westendorf, originally appearing on our Blade Forums subforum. It has been re-printed with Matt's permission.
Have a great story (with great photos) about your Fiddleback Forge knife? Let us know!
---
---
Leave a comment
Comments will be approved before showing up.