How to Construct a Pine-Bark Bowl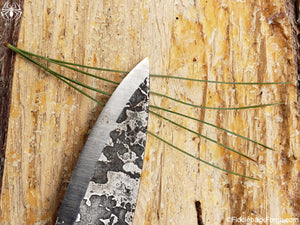 Can you imagine what it would be like to have the confidence to walk into woods with only a knife and survive? It is a goal, albeit a lofty goal, many people have. It sounds like it requires a lot of skill because it does. There are challenges and difficulties everywhere. You have a knife but what about shelter, food, fire, and water? What about everything else? The sum total of all the issues you must address can be hard to digest at once. However, when you look at each task individually with a knife and a problem-solving mind, the thought of surviving in the woods comes more clearly into focus. For this month's Fiddleback Forge blog, I'll focus on one way to address the basic survival need of water. Perhaps one of the easiest ways to make a water vessel is by using pine-bark. As you'll see, this time of year, you don't even need to make a fire or use cordage to address your hydration needs.

Step 1: Locate a Suitable Pine
White Pine is found throughout the country and it is an excellent survival resource. Most people utilize the tree for its needs in teas or the inner bark as emergency food. White pine needles come in groups of 5 and if you simply remember there are 5 letters in the word "white", you shouldn't have trouble finding it. Also, when you look at a white pine and pay particular attention to the orientation of the branches that extend out from the trunk. They look like a bike spoke and have a gap between each group. Ideally, you want to find a pine tree that was recently downed or damaged and utilize the bark from a mature tree.

Step 2: Score and Remove Bark
Pine bark will separate easily from the tree if you use the tip of your knife to score through the cambium layer. All you need to do is cut the trunk of the tree in two parallel bands with one vertical cut that connects them. Create these cuts in a section of the tree where the bark is not damaged and there are no branches protruding from it. Envision what a piece of loose-leaf paper would look like wrapped around the tree trunk and cut this into the bark. Using the tip of your knife, gently work your blade underneath the layer of bark freeing it enough to get your fingers underneath it. From there, you can "skin" it much like an animal where your goal is to remove the bark in one piece. As you remove bark, you may notice unsuitable sections destroyed by beetles. You can trim your bark section after you have it all removed. You may find it easier to take a small branch and pull this between the bark and the trunk to avoid pulling one section of bark too hard that can tear it. Continue stripping the bark until you have a single rectangular piece to work with.

Step 3: Prep Bark for Folding
At this point, you will have a piece of bark in a rectangle. There will be a "smooth" and a  "rough" side for all intents and purposes. As mentioned before, you may have to trim away the sections damaged by insects. Using your knife, hold the bark rectangle lengthwise like a piece of loose leaf paper and score a "U" from the top left corner down about a quarter of the way down to the other corner on the top right on the rough side. Rotate your piece of bark and repeat this process with the bottom left and bottom right. Scoring the rough side helps you fold it to shape and maintains the integrity of the inner bark for water-holding purposes. Don't carve too deeply and only carve down until you see the outermost part of the  lighter colored inner bark.

Step 4: Folding
When you hold your scored bark section in your hands horizontally with the inner bark facing you, it becomes pretty easy to pinch the bark ends with your thumbs and forefingers to fold up the ends. You will notice the bark will favor folding where you scored it with your knife. Gently fold this bark upward and avoid creating a 90 degree fold on the sidewalls. Keep in mind, this is a quickie container and it will be used for a short period of time. Don't get too emotionally attached to it and realize the more you make, the less you'll be stressed about making one. You'll eventually learn how far you can stress bark and what you can do to "cheat" folding material with heat from a fire. As this piece of bark dries out, it will become more brittle. You can take 4 pegs and "pin" it to the ground to hold the folds in place as it loses moisture and becomes more rigid.

Your folded bark bowl is essentially ready to work. Keep in mind, all of the crafts you put your mind to must be assessed for difficulty, durability, time investment, repeatability, etc. In under 10 minutes, you can create a water container, a bowl, a shallow dish, that is ready to hold water. Compare this to a fire-blown bowl or carved out dish. At this point, you can fill it with water and boil that water with hot rocks placed carefully with a set of tongues cut from a couple of green twigs. Personally, I would rather use water that is ready to drink and this time of year, grape vines are my go-to emergency water source. Grapevines are easily identified and they produce a very subtle sweet water from them. Don't attempt to collect water from a furry vine as it is likely poison ivy. Collecting water from a grapevine requires cutting a small strip out of the vine low to the ground. You do not need to completely sever the vine and you'll find you won't kill the plant by removing only a part of the vine as described. Almost immediately, the water from the vine will drip steadily and fill your container. It shouldn't take long before you have a cup of water with little effort.

There is an expression, "A knife in the woods and you're rich." Your knife is your most important tool but "rich" is not the same as "practical", "convenient", or "easy." I believe in tackling tasks one at a time. Instead of thinking of all the world working against you all at once, think of your situation as a dozen individual challenges instead of just one. This perspective comes more clearly into focus when you own wilderness living skills and I encourage everyone to get out and practice them. I personally have no desire to go into the woods with "just a knife" but I do know I have the means and know-how to get it done should I have nothing else. 
---
---
Leave a comment
Comments will be approved before showing up.