Ins And Outs of Urban Down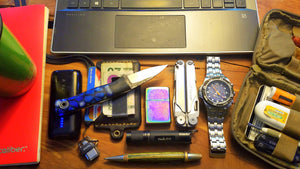 The city I live near, and work in, is a lot more calm and peaceful than the larger ones I lived in as a teenager and young adult. Chattanooga Tennessee is quieter, and in my opinion a good bit less dangerous, than cities like; Miami, Dallas, St. Louis, Mobile, and Atlanta were when I was roaming them years ago. I was born in Chattanooga, and it has always been a smaller city than the others.  Yet like any other well-developed and functioning city, it still has its sketchy areas and its bad days as well. So even here, having devoted a lot of my life to the study of various levels of urban survival, I still always leave home at least attempting to be prepared to cope with a number of possible contingencies, some of which we all hope never occur.      
For one thing, being located at the southern tip of the Appalachian Temperate Rainforest, it rains here quite often. It isn't too bad to get caught out in it during the warmer months, having an umbrella on hand is usually enough to keep one's self dry and an electronics in a pack safe. But in the colder months, when the sun goes down earlier and the temps drop immediately after, it can be dangerous for some folks, particularly the elderly and people with blood sugar regulation issues. Being familiar with transportation and possible temporary shelter options along your usual routes is a good idea.   
Something I learned in Miami in the mid 80s, when I was in my early twenties and still struggling with all the expenses of adulting, is that parking at a tram or shuttle terminals on one side of the city, and making use the free inner-city mass transit system, can be a really good way to move between multiple areas of a city during business hours. So it just naturally got applied to my time of working in the city here and down in the Metro Atlanta area when I am there, just from an old habit.  
Sometimes it's nice to be able to just focus on the complexities of our inner-city errands, or simply enjoying our multiple-destination cross-town urban adventures, without all the stress of repeatedly seeking out and paying for parking spaces. Especially in some areas of town where parking spaces can be scarce, very limited in time allowed, and/or come at a premium price. Which is only made worse on rainy days when some of the card readers in the parking meters stop working.  
A post-meal walk is almost never bad for us, it helps us digest our food in a healthier way than sitting. And personally, I would rather walk downtown than ride or drive there. Yet now and then, like when we are on our way to our chosen eatery and running late, time can be of the essence. It can be handy to know the local bus routes just in case Uber or Lyft are not viable options at the time.
While day time shuttle and tram rides usually aren't bad, late at night, or near the end of operating hours for those that don't run all night, it can be a less good idea to them if you have children in tow and have another option. Not so much because of physical threats in my experiences, but because the language some passengers use can be bad enough that you'd rather not expose your children to it. 
One rainy Saturday night I had the ask a driver to let my daughter and I off a shuttle at a traffic light, about ten minutes after I snapped the above image when we boarded it, while we were still a block away from the next scheduled stop and seven blocks away from our destination. Because in that moment I didn't want her exposed to any more of their conversation than she already had been, and risking an altercation with more than a half dozen angry young men seemed like a bad idea under the circumstances.       
However, as I mentioned before, all cities have their sketchy parts. Areas where very bad things seem to happen much more often than in other areas of the city. It pays to be aware of these locations so  you can avoid them at almost all costs. As much as we may not want to have our children hear it, or have to suffer through it ourselves, even the foulest language is a much lesser evil compared to some others that take place in cities at night.
If you spend enough time wandering through cities at night, the subjects of self defense and self preservation are sure to cross your mind. There are certainly a lot of inspirations out there for those thoughts. So I thought perhaps I should offer a little food for thought on that subject here as well. Personally, I think the best form of self defense is to avoid engagement with any would be attackers if at all possible. The next best option, to my way of thinking, is to purchase and train with some form non-lethal option such as a multi-shot taser. And then back it up with a good quality hand gun and the training to go with it, just in case the situation deteriorates that far. However, some of the more mundane items we carry every day can be more effective in the "get-off-me" role than some may imagine. 

Most of the data I have collected over the last several years, and that was one of my day jobs for nearly two decades, supports the theory that trauma (sudden severe pain) from fracturing bones or rending large areas of flesh, will usually end a fight  quicker than sudden severe damage that isn't immediately felt. As in deep cuts with a razor sharp knife, especially versus an attacker under the influence of drugs or alcohol. 
Also less-than-lethal options tend to cause fewer legal obstacles for us in court as well, when we have to explain to a judge and jury what we did and why. In such cases, if we have been forced to use a knife to defend ourselves in a hard world, it can be helpful to have a good working knowledge of human anatomy and follow Andy Roy's philosophy on ugly knives. Carry a smaller nice looking knife that appears like it would be more at home in a gentleman's edc rotation or on a charcuterie platter, than it would be on a battlefield or in a mall ninja's display case.
We all tend to adapt to our environments in our own ways, that help us become more comfortable within them. In my work I spend at least some time every month out at night somewhere in the cityscape. Usually out on a fringe looking back in. There aren't a lot of meal options available in this city in the middle of the night, because the vast majority of businesses are closed. So I usually take my own lunch. Over the years I have developed a tendency to take at least some bulk foods with me. Foods that require cutting, and where freshness and taste are plausible reasons my doing so. Then I do my own portioning when I stop to eat. Thus my having an alternative method of self defense on the table in front of me, if I'm caught off guard while I'm eating, cannot be easily construed as a provocative act if I do have to defend myself. It can be illustrated as an instinctive action in the wake of being attacked.
City life can be pretty complicated and rather stressful, especially for those who are new to it. It was certainly stressfully complicated for me when I went from a small city in the Tennessee hills to a very large city in central Texas when I was a teen. But we humans are pretty resilient. One of our biggest claims to fame is that we, unlike any other creatures on this planet, exist in every environment here simultaneously. For the most part our safety is closely connected to our knowledge of our areas and our levels of awareness within them. So the more we know about the environments we inhabit, the less of a danger to us they become.
---
---
Leave a comment
Comments will be approved before showing up.