Is Blacksmithing Dead?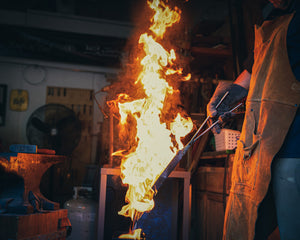 Blacksmithing has become mostly an art or hobby to be admired at quaint old historical towns or your occasional craft fair, as opposed to a trade found in every town and city. With the advancement of industry, technology and societal changes the trade has been forever altered and is mostly fading into an obscure distant memory. The image of a blacksmith is mostly derived from movies. Picture a small town with a muscle bulging man covered in sweat and black soot as he toils over the hot forge. Now I know you have pictured Andy Roy in exactly this way as he is making your most beloved fixed blades. The truth is, the modern knife maker is as much business man as a skillful brute forger.
To look back on blacksmithing in history you could start by looking at both mythology and the bible. Many of you will know of Hephaestus the Greek god of fire who worked on mount Olympus with his anvil and twenty bellows. Hephaestus was known for forging most of the equipment used by the gods in the ancient lore. Next you could touch on Vulcan the Roman god of fire whom was the equivalent of the Greek god. The bible mentions Tubal-Cane "forger of all instruments of bronze and iron". He interestingly was also described as the first chemist. This trade is firmly rooted in our past human history as well as our past religious history. Blacksmithing as an occupation was once a staple in any medieval town & through to the late 1800's. The industrial revolution brought factories and mass production this would be the start of modernizing the trade.
Take a look at what a modern day maker looks like. I don't mean are they working out, wearing a man bun, and walking around in nothing but leather and sweat. A successful man or woman that is in this profession today has put a high level of commitment into the work, sometimes before they have even started. This can include investing in certain tools, machines and equipment. The skills they needed to learn include science, math, chemistry and creativity. All in an effort to stay relevant and keep up to date with heat treats, metallurgy, hamons and Damascus. These are just a few areas that makers should be knowledgeable in. Customer- relations however is one of the most important skills for makers looking to have his or her creations fulfill the customer's needs.
Thankfully this ancient craft has seen a resurgence in the United states, to the joy of knife lovers, collectors and users whom are drawn to this world of steel. People are absorbing with great hunger, all things that have to do with the craft. Some names in more modern times that most of us collectors/users are familiar with are Bo Randall, James Lile and Robert Loveless. These men were pioneers in the industry and most knife makers today get a good portion of their inspiration from these blades. One of the great things that technology has brought to the knife collecting world is variety. As consumers, we have the heavy burden of choosing. Custom, mid-tech , production. Forged or machined; fixed blades or pocket knife. With a bevy of different blade shapes, sizes and handle materials there are hundreds of variations. The modern consumer is as hungry for these blades as the makers are to continue making them.
Is the blacksmithing trade dead? Blacksmithing, forging blades on the forge has absolutely changed as we knew it to be. In its stead we have taken the craft and infused it with our technologies and knowledge to create a thriving blade industry. We are no longer the gods of old but pioneers who have become adapted to ever changing society. The art of making knives goes back in human history as one of the first tools and will always be a part of our primordial needs. So whether it is a staple of life as in our past or a deep urge to find some connection. Perhaps a connection to the earth , to our survival , to hard work or just to our childlike curiosity to have and play with something that is beautiful, useful and dangerous. Knives aren't going anywhere. No cancel culture can dispense of them. Collections worth millions or a collection of one loved blade , we all stand together as lovers of this craft. I for one am thankful for the hard work and commitment that these makers put into feeding our addictions.
---
---
1 Response
Leave a comment
Comments will be approved before showing up.