Journal of The Mind's Eye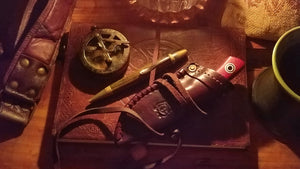 In early 1979 I was 13, and very fortunate to be given one of my most valuable life lessons by my Shop teacher Mr. Clark at North Dallas Junior High. He was explaining an important step when my pen ran out of ink, so I was hurriedly looking through my pack for another. The commotion caught his attention so he stopped his presentation to ask what I was doing. I explained that my pen had died, and I needed another because he was at an important point. He laughed and said yes it's very important, which is why I stopped to see what was going on. 
Then he looked me in the eye and said: "Son, some of the most important notes you'll ever take, you'll probably make in your mind with your eyes first. Your hands will be too busy or dirty to write, or you won't have a notebook, but your brain stores the images of everything you look at. So you need to keep your focus on what's happening and make a journal in your mind. Critical thinking is seldom about understanding what you've written or read, it's usually more about understanding what you're looking at, how it works, and knowing what to do about it if it stops." I've never forgotten that.
Seven years later, an equipment operator would ask if I had a quarter he could get for two dimes and a nickle, and I said sure and handed him the coin. He then laid it in a hole on his machine, laid a piece of inner tube on top of it, then threaded a fitting attached to a rubber hose into the hole and snugged it. When he noticed I was watching he turned and answered my unasked questions. The machine had busted a cylinder, and he had just ad hoc-ed a block in the line so he could move it out of the way without losing all the hydraulic fluid. 
The mental notes of that event enabled me to solve a serious hydraulic problem of my own years later. I was a new father on my way to work one Monday morning, when a rear wheel cylinder on my car blew out. Remembering how the operator plugged his line, I looked through my tool box for something that might work for closing off my brake line. I was hoping to make it the last mile to work, then see to the car after I got off. That was the day I learned that 3 penny box nails can be a viable option for closing off a brake line, and I made it to work without being late enough to get docked. I've kept a couple of box nails and a pair of needle-nose Vice Grips in my vehicle kit ever since, and they've come in handy on three other occasions since.
In the spring of 1987  I was a young apprentice studying under a Master Carpenter named Larry Hambey, who in his mid 60s had probably already forgotten more about old school carpentry than I've learned. He had shown me how to cope bedding mold using a sharp pocketknife instead of a coping saw, but either I had the wrong knife or used the wrong technique one day and ruined the slipjoint pocketknife I was carrying. I levered the handle apart with the force I applied to the blade. I have preferred pocket knives that do not fold ever after.  
The lesson I learned then paid dividends almost exactly 32 years later in the spring of 2019. I was in the middle of preparing an evening picnic for a friend and I to enjoy as we watched the sun set and waited on the fireflies to emerge, when I realized I had left my cork screw on my desk in my studio. Having learned the cork could be pushed down into the bottle on an earlier picnic with her a couple of years before, I knew all I needed to do this time was whittle a limb to the right diameter to fit down the bottle neck. With the small fixed blade I was able to quickly remove material from a seasoned stick of cherry without damaging the knife.
I suppose all the contingency kits I've put together are journals of sorts. The items within tell the stories of some of my past experiences, and I suppose most of it is just common sense items. We've all learned to have some things on hand for our most common mishaps over the years. Severe frostbite, which nearly cost me two toes from each foot, and almost dying of hypothermia twice are the reasons fire starting capability tends to be redundant in my kits.
And yes, as you may have noticed, I have learned from some of my mistakes along the way, and among other things I now keep a cork screw in my kit in the form of a Swiss Army Knife. Because I've also found that it isn't only the mishaps and emergencies that impact our lives in the most profound ways, but also how we approach our day to day lives as well. So these days I try be as prepared to enhance the quality of my own life and of those who are dear to me on the good days as I am on the bad ones. And the last picnic went more smoothly.
Once we're out of school, the rest of our life is just one long series of open book tests, and we're allowed to take notes. I think paying attention to the events in our lives, and making a mental journal of important things as we grow, can go a long way toward making the tests a lot less stressful on us.
---
---
Leave a comment
Comments will be approved before showing up.