Kits for the Gram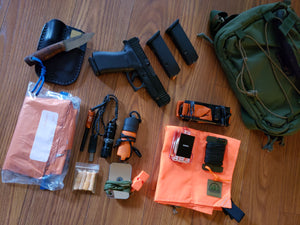 #Flatlay is a popular hashtag on instagram. If you've spent any time on social media you've seen them even if you weren't aware of their name. A flatlay is a stylized layout of contents tailored to a particular audience. There are flatlays for the gadget crowd that include fidget spinners, multi-tools, and minimalist multi-function items. Other flatlays focus on the gear carried to defend life such as pistols, spare magazines, tourniquets, and flashlights. A good flatlay can garner hundreds of likes. If a surgically-enhanced instagram "influencer" posts it, the picture could be liked thousands of times mainly by poor saps duped into believing liking a pretty girl's photo will win them points for the day they'll meet, fall in love, and live happily ever after. No matter how you cut it, flatlays are popular and as ridiculous and obsessive compulsive as they seem, they do serve a good purpose. A proper flatlay can educate the viewer and help them improve their level of readiness. I've assembled some of my favorite kits and presented them in the flatlay format. I've thrown in a different sweet Fiddleback knife in each one for added measure.
The Fire Kit
This minimalist fire kit is built around a small pouch from the GoRuck company. In it, there is a standard ferro rod, a BIC lighter with bicycle innertubes wrapped around it, my charity fund lighter from EXOTAC, plenty of Procamptek fire plugs, and a fire genie. My primary firestarter is my BIC with the potential of lighting 1000 one second fires. If that fails, I have a ferro rod and premade tinder. One of my favorite items carried, and perhaps the least understood by others,  is the fire genie or fire bellows. Sure, it looks like an old radio antenna but it serves a great purpose. I don't have to get my face close to a fire to blow on it, I can concentrate my breath through a narrow opening, and I can also get fires going in the AM by blowing on the coals with enough force.
The Ankle Trauma Kit
If you follow my Fiddleback Forge blog posts here long enough, you'll see I recommend carrying a tourniquet. If you are smart, you carry one too. If I could, I would carry a substantial medical kit on my person in an overt manner but that draws too much attention. This kit is based around an ankle cuff made by Wilderness Tactical. In it, I have a set of nitrile gloves, trauma shears, hemostatic gauze, and a small Israeli bandage. Worn on the ankle, all I have to do is take a knee and I'll have my kit at my disposal. As long as you don't wear skinny jeans, this kit goes unnoticed. You will need a little time to adjust to carrying it there but once you do, you'll be glad you have it on you.
The Knife Maintenance Kit
There are a few items I always pack to make sure my knives stay in working order. A good maintenance kit includes the means to sharpen my knife, hone my knife, and keep it rust free. This particular kit is contained in a small accessory pouch from Badger Claw Leather. This means I carry a good diamond stone, a pocket strop with green compound on one side and black on another, and I have a rust eraser along with some oil for my blade.  I choose to carry a diamond stone as it cuts steel better than your average Arkansas stones. With all the modern "super steels" out there, you will want a stone that works with less effort. Since all knives benefit from stropping, I carry a homemade strop with Bark River Knives compound rubbed onto both sides. Rounding out the knife maintenance kit is a rust eraser and a small pouch of Ballistol. I can address the constant concern of rust in the field and keep my knives in great shape with just these basic items.
The EDC Kit
Ok, this isn't your average "kit" carried in a single pouch but it is carried in a single pair of pants or shorts. This is my usual go to daily carry and it doesn't vary much. In my right rear pocket sits my Filson wallet and in my left rear pocket is a NxN bandana. Usually in the left rear pocket is a SOF-T wide tourniquet or ratcheting tourniquet. In my left front pocket is a BIC lighter with bike innertubes, a chapstick, and my Streamlight Protac 1L-1AA. In my right front pocket is my Victorinox Ranger with an EXOTAC fireROD on the same lanyard. Depending on where I'm going, I may also have a Glock 48 with me in a Tenicor VELO holster and a spare mag tucked in my left front pocket too. If there is room, I may have one of my Sayoc/Atienza brother's blades carried IWB on my other strong side.
The Cordage Kit
When I go camping, I like having a good selection of cordage at the ready. Years ago, I only carried 550 paracord but I've moved past that single option. Now my cordage kit, carried in a Kifaru Pull-Out Pouch,  includes tarred net line, 1" tubular webbing, jute twine, some duct tape, and at least one carabiner. There is still 550 paracord in my kit but it is designated as "don't cut" cordage. Afterall, it's easier to cut cordage than put it back together. I carry some 550 cordage in certain lengths for certain applications. For example, I have at least one 50' length for setting up ridgelines and a half-dozen 10' lines for staking out my tarp. The other components are used for different tasks. Jute twin is biodegradable and I don't think twice about leaving it behind. The #18 tarred line has a breaking strength of 160 pounds and that does most of the work around camp. The 1" webbing and carabiner gets used for hauling and the duct tape for repairs.

Chest Pack Kit
The chest pack is a great way to carry a pistol, spare ammunition, and some essentials when your backpack's hip belt would otherwise get in the way. I use a Kifaru Koala-lite chest pack and depending where I'm going and what time of year it is, I may have a Glock 17 in it or a SIG P220 in 10mm. What I carry in the front accessory pocket varies but it usually includes a small backup compass, small cordage card from Sagewood Gear, a folding knife or my AMTAC Blades Northman, a Tactikka headlamp from Petzl, and other 72 hour kit items. I don't like to weigh down my chest pack too much as it does ride on me almost 24 hours a day. I'll even wear it while sleeping in my hammock.  

I enjoy a good kit picture as it helps me learn new ideas and gain perspective on why certain gear is carried. I've been doing this for years, continue learning from others, and recommend you do the same. Long before the instagram craze of the flatlay, there were internet forums like Bladeforums and Knifeforums that had the occasional picture presented in a flatlay. Before that, there were magazines like the American Survival Guide of the 90s and survival books that showed kits spread out like the present flatlay model. Whenever I teach a class with the slightest connection to readiness and survival, I always ask students to explain what they carry in their "emergency" kit and the "why" behind it. As someone who has learned so much from others, I'll continue posting flatlay pics to the gram out of reciprocity. Look for them on my account @estelawilded. Come up with a good flatlay of your own and label it with the hashtag #fiddlebackflatlay. I'll be sure to give it a "like". 
---
---
Leave a comment
Comments will be approved before showing up.