Knife Carry for Women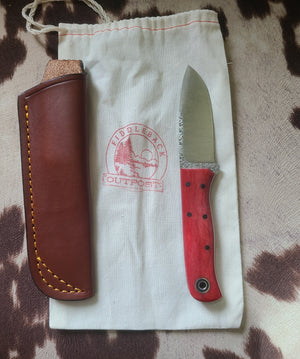 Have you ever purchased a knife for your wife/girlfriend, only to see it wind up permanently residing in your kitchen drawer? Unlike most men (who have no issues displaying their blades to the world throughout the day), women can find themselves uncomfortable or even ostracized when attempting to carry a knife out of the house. Luckily, there are numerous different ways for female knife enthusiasts to bring their hobby outside without sacrificing comfort or effectiveness.

An obvious method of carrying a knife is simply bringing a backpack or bag you can store it in until it's needed. This keeps others from seeing it on you, however, a glaring issue presents itself: a blade you can't wield quickly isn't going to serve any use when you need to protect yourself. So, an equally simple and far more effective technique that you can use instead is wearing pants that include pockets. It's a rarity, but yes, there are indeed women's pants with real, working pockets sewn into them! This gives you the ability to hide your knife from the view of the world, but in the case that you need it quickly, it's as close to your grasp as it can be. 

Wearing pocket-ed pants is a quick fix for carrying your knife, but it primarily only supports pocket knives (figures). What do you do if you need to carry a large, fixed blade? Or what if the bulge of the knife resting in your pocket is just not fashionable enough for you? In that case, it's time you consider purchasing a belt. While more common on men than women, a belt that can support your knife has the potential to serve as a boost to your tactical efficiency and as a unique addition to your outfit. You can brandish your blade far more quickly than someone keeping their fixed blade knife in their pocket, and you aren't restricted in the types of pants you're able to wear. 

But what if neither of these options work for you? There is also what's known as the scout carry. This is basically a 90 degree placement of the fixed blade on your belt at the small of your back. This position gives you the most concealment as well as a very smooth deployment. To ease the anxiety of those who fear the steel, this is a great way for a lady to be able to defend herself and at the same time conceal the blade. The main idea is not to draw unwanted attention to it by covering it with a shirt or jacket.

While not a comprehensive list, each of these different types of carrying cater to the needs of us women and allows us to bring our knives out of the kitchen drawer and into the world, where they can be put to use. So ladies, if you ever feel uncomfortable bringing your knives out with you, give each of these different techniques a try and find what works. And men, if your woman seems apprehensive when you try to lend her a knife for daily use, give her encouragement and provide her with these useful methods
---
---
Leave a comment
Comments will be approved before showing up.