Know When You Must Go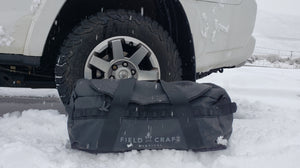 Have you ever felt like all the signs in the world were pointing you in a particular direction? You know what I mean, you can't escape a particular topic from coming up in discussions with friends, on the news, in your social media feed, and essentially in the air all around you? Well, I have been getting signs from all directions to write this blog about a particular topic I haven't been able to escape. If you haven't been watching the news, we know our fellow Americans in Texas were dealt a very cold blow. Record lows and snowfall crippled the state and turned otherwise tough-as-nails Texans into the almost helpless. I use the term "almost" because the concept of readiness requires willingness and if you are ready, you can prepare ahead of time for getting stuck indoors for 3 days, a week, a month or more. Let's face it, if you are reading this, you survived COVID last year and probably noticed when supplies slowly started to make their way back to shelves. You may have stocked up or you may have been among the many who said, "it won't happen again." If you stocked up, you can hunker down but if not, your best bet may be to bug out. That decision isn't an easy one to make since you are leaving behind your home. At some point though, you must make that decision when you know when you must go.
The state of Texas is approximately 268,597 square miles. It is home to some really great BBQ, tough Americans, and plenty of cultural centers in Houston, Dallas, and Austin. Just as the winter storm passed over Texas, it hit Chicago and made me hunker down for the night in a nearby airport hotel as my flight out was canceled until the AM. I watched the footage of snow in areas that never experienced it like that before and heard about the trouble Texans were having with pipes bursting, groceries in the supermarket being sold out, and people losing their minds out of panic. As this event unfolded on television, I thought to myself, "this is going to be an excellent case study someday just like Hurricane Katrina and Superstorm Sandy." Modern technology is incredible and this winter storm was predicted with some buffer of time. You won't have long but you will have enough time to make a decision if you have sufficient supplies to stay put (Bug In) or if you need to pack up and go (Bug Out).
Should you bug in, you join the ranks of most people who are not willing to abandon their property. Our homes are significant investments and it isn't easy to think about what could happen to them while we are not around. That said, our homes are also where we are strongest and chances are, our largest stockpile of resources are found there. Ideally, you prepared long ahead of time for an emergency 72 hour event. Perhaps you have enough food and water for a week. If you are even more prepared, you have food and water for a month and those who are the most prepared are sitting on supplies for a year or more. All those supplies are effective if your emergency calls for them. In this case of Texas, the trouble wasn't so much a factor of hunger and lack of food but simply cold. In a state where the average temperature is 60-70 degrees in the day and 45-55 degrees at night, the state was ill-prepared to handle freezing temps. This caused a rush on supplies and strain on the infrastructure and in particular the electrical grid as residents cranked their thermostats to stay warm. Ideally a person will stock up on extra flashlights, medical supplies, portable power sources, and have a network of neighbors to team up with. This is not always an option though.
The option to bug out was on the table for Texans with vehicles. This option is almost always present with this kind of event. On the east coast, residents will leave their states for better weather before a storm sets in. Northerners will travel south for warmth, and southerners will travel inland where hurricanes lose their power. Bugging out is just as much of a mental challenge as it is physical. You have to ask yourself, "What am I willing to leave behind?" as well as "What am I ok returning to?" We can only carry so much on our backs but we can use our vehicles to extend our packs. Some may even already have trailers prestaged with food, water, and supplies to quickly hook up and go. Something true of most events like this one is the limited scope. As large as Texas is, the storm didn't affect all of the neighboring states and there was a direction and corresponding path out. If you put enough distance between you and any threat, there will be less of a chance of that threat affecting you. Also, as my father would say, Dr. Time is good medicine. Shortly after this storm, the temperatures in Texas started to rise again. In all of these natural disasters, time is a great healer. Certain events will take longer to recover to normal but they all recover eventually. How long you will need to bug out can't be known for sure but you can rest assured it won't be indefinitely.
Now, a week later as I write this in the comfort of my kitchen, it's easy to armchair referee what could have been done. It's easy to point out more Texans should take advantage of the nuisance population of axis deer and wild hogs to stock up their freezers. It's easy to say you should slowly stock up on supplies with each trip to the grocery store rather than trying to make one additional trip where the cost of the groceries will be more noticeable than spread out over time. It's easy to say you should create a network of people in your neighborhood and fallback on your community. Like all the times before, these lessons come up in the "would of" or "should of" category that rears its ugly head with each disaster.  Each of these disasters that makes the news has a lifespan of about 2 weeks. That is, we'll forget about Texas in a short time. Along with the lack of memory will be the lack of importance in preplanning for the next. Will we be more willing to put money towards the next family vacation or hardening our preparedness for the inevitably of what will happen again? My advice, above all, is to get ahead of the power curve. Begin planning now for various courses of action. Have a primary, alternate, contingent, and emergency plan. Be proactive instead of reactive. Keep in mind, action always beats reaction. Don't sleep at the switch when it comes time to decide if you need to stay or if you must go.

Special thanks to the lovely Anna R. for submitting the snowy photos taken near San Antonio during this winter-weather event. We are glad you and your family as well as all Texans are doing better now with Spring less than 3 weeks away.


---
---
1 Response
Leave a comment
Comments will be approved before showing up.