Lanyards, Fobs, Pull Things, and Dangle Bobbers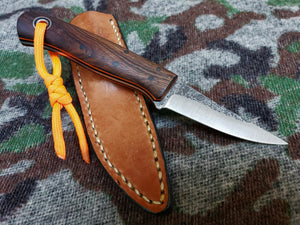 Fiddleback Forge Knives are some of the most recognizable blades around. From the unique finish on the flats of the blades, to the perfect lines of the handles, to the distinctive "bullseye" lanyard hole, you can't miss them. It makes sense those who prefer an attractive knife would like to carry it in an equally appealing sheath and since the coordination doesn't end there, a proper lanyard is likely to thread that bullseye lanyard hole to finish off the knife. Lanyards, fobs, pull things, and dangle bobbers are sometimes more function than form when they should be the other way around. The form of your lanyard (I don't need to call them "dangle bobbers" again do I?) should follow the function. Just like Fiddleback Forge knives that perform and look good, your lanyard doesn't have to be just a simple knot anyone can tie. This month's blog pays close attention to an overlooked accessory, the lanyard. Here are a few considerations for your reading pleasure.

Extended Grip
My late mentor, Marty Simon, loved carrying a small 4" blade as his primary survival knife. It rubbed off on me and one of the reasons why so many of my personal blades are this size are because of the way I watched Marty employ them as a "do-all" tool. One skillset he gave me was the ability to use the knife as a larger chopping blade. With just a small loop tied into the lanyard, I'm able to take my ring finger and place it through the opening allowing me to hold the knife higher up in my palm. The lanyard prevents the knife from slipping out of my hand when I snap cut with the blade. When quality cordage is used for the lanyard, you don't have to worry about it breaking.

Easy Draw
If you ask me, the best way to carry a bushcraft knife like the KE Bushie is in a deep pocket sheath. A good pocket sheath will ensure the knife is carried securely with the balance point of the blade deep inside the opening of the sheath. Sheaths like this also keep the handle of the knife from getting damaged and when your KE Bushie has a gorgeous desert ironwood handle like mine, well, you don't want to put any unnecessary scratches on it. The lanyard you put on your handle will help you extract the knife from the deep pocket sheath better than if you were to pinch the end of the handle with your thumb and forefinger. Even if you have a smaller knife carried inside of a pocket sheath, the lanyard will always assist helping you draw that blade with less effort and inconvenience.

Spare Cordage
Depending how you knot your lanyard, you may be able to get away with a decent amount of spare cordage on your knife. Don't expect to carry enough cordage to string up a ridge line for a shelter but you may end up with enough for the occasional emergency lashing. For the bushcrafters in the room, you can use that 18-24" of cordage for a bow-drill string or for creating a Canadian jam knot to secure a horizontal lashing to a tree. Experiment with different ways to braid your cordage and don't be afraid to untie it in an emergency. You can always use the inner strands of your paracord for finer cordage and some inner strands of cordage can be separated again into thinner sections. The outer sheath of the paracord you carry can be used independently too.  Remember, paracord is cheap. Don't hesitate to use it. It's just cordage!

Secondary Retention
Imagine for a second your reach down to your belt and where you normally make contact with the handle of you knife, you find a void instead. Rather than that beautiful tapered tang with micarta liners underneath a great set of matched handle slabs, you find nothing. This isn't what you want to feel or not feel when you reach for your blade. Usually, if you adhere to the rule, "if the knife isn't in your hand, it is in your sheath", you will never have to worry about losing your blade. However, strange things happen, moonshine happens, sometimes you sit a different way and the opening of your sheath points to the ground and your knife makes its way there. A simple fix, a way to make your knife harder to lose, is to take the lanyard you place on your knife and put it between your belt and your pants. If you use a knot like the diamond knot, you will have a cordage "ball" that will lock it in place. This trick is worth its weight in gold, or perhaps its weight in Fiddleback Forge knives.

Tether for Small Accessories
On one end of your lanyard, you attach your knife. The other end is usually a knot but if you have a small accessory, you can put it opposite your blade. While not on my fixed blade, in my right hand pocket for decades has been a Swiss Army Knife with a ferro rod on the other end of the lanyard. This way, I know I will always have a cutting tool and fire starter. The same can be done with a fixed blade. You may not want to carry a ferro rod but a small squeeze LED light makes sense as does a lighter. Think of your lanyard as a leash for two items you would never want separated. That item on the end of your lanyard can also be used as a stopper knot the same way you used that diamond knot behind your belt too.

Remember, Andy always says, "Life is too short to carry an ugly knife." The same goes for your lanyard. Don't put a beat up old piece of paracord through that bullseye unless you really want to. Paracord is cheap and you can swap it as easily as you would the hat you wear. Before you consider your knife "done", put it in a quality sheath, and don't forget the proper finishing touch like a proper lanyard. You'll use it more than you think. 
---
---
3 Responses
Leave a comment
Comments will be approved before showing up.