Lights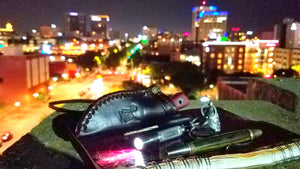 There are many reasons why it's to be able to illuminate the darkness at need. Some of them can actually be crucial to our survival. Having spent much of my life working in various non-illuminated environments, both urban and woodland, I almost never venture out without having at least one light on my person and a backup or two in the console of my truck and / or in my pack. A deep forest can be a very dark place to find yourself on a cloudy night or on the night of a new moon, and our cities are only well lit as long as the power grid is up and running. When the grid goes down, inner-cities can become very dark. I've spent time under stress in both environments with no light source, so today I make every effort to avoid finding myself in that predicament ever again if it can be helped.
Having also spent a good deal of time as a significant other and a parent, one of the best reasons I've seen for always having a light handy is simply for being able to do a better job of being there for those we love. One night a few weeks ago I got a call from a friend telling me that she had lost one of her favorite earrings in a parking lot. Luckily, as stated above, I almost always have at least one light on me. So after a quick drive over to the restaurant, which was already closed, the search was brief and I was able to recover her earring very quickly. That was actually one of a few instances that week which inspired this article, hence snapping the above picture at the time to use for an illustration shot later. 
Between work and play, I spend a good deal of of time around bodies of water of all shapes and sizes. From the rivers streams and lakes of the southeast U.S., to the bays swamps and coastal plains of the gulf coast. I have put several models of torches to the test over the years, to see for myself if they worked as advertised. In fact I have used this Klarus Mi10 to illuminate several objects in the rain, and under water in the shallows of various streams and rivers, even in the Gulf of Mexico once, in the 6 years since I got it. It was even used to illuminate a set of keys at the bottom of the fountain at Westin's Chattanooga Hotel in the above image once, for a night experiment in illustration images. Talk about getting some funny looks from some of the folks on the patio. The tech specs on the packaging, showing that it was rated to IPX8, had given me ideas for several photographic experiments. So far it has performed flawlessly through all of them. The fact that I have come to trust it so much is why it lives in my pocket. 
The IP rating, which is sometimes referred to as the International Protection rating and other times referred to as the Ingress Protection rating, is the system by which the extent a device is protected from the ingress of dust and water is measured. The first number after the P refers to the dust protection level, and when there is no data for that in relation to a particular product or it is irrelevant, an X is inserted as a place holder. The second number refers to water ingres protection. In the world of outdoor gear IPX8 is one of the highest ratings you will find. It means the device is waterproof to a depth of more than one meter for an indefinite length of time, and will still perform as intended whilst submerged. The actual depth to which the device may be submerged is supposed to be specified by the manufacturer on their packaging, but so far I have yet to see it. If you are someone who spends a good deal of time in wet or aquatic environments for any reason, this alpha-numeric sequence is a good one to know. 
Just to clarify things, the knife being included in the above shot was neither gratuitous nor incidental. It was there for a very real reason. Most clam shell packaging is made so as to inhibit easy opening in order to help prevent shoplifting in the stores, and the Fenix packaging shown here is certainly no exception. Unless you are a good deal stronger than the average person, you will need to cut the package open in order to extricate the light.      
So far the most intense underwater test I have put a flashlight through was in murky water just under 2 meters deep, with the light on for four or five minutes at a time and off for a couple to rest, for just over an hour. And that was a completely unintentional testing. It happened when a friend and I were hanging out and talking on a pier one night. When that evening started I had no idea I was about to get a refresher course in problem solving, and she had no idea she was going to learn a new skill set and see first hand just how perseverant I can be.  
However as we were there on the bench you see in the photo below, my keys somehow slipped out of my pocket, and soon the only chipped key for my truck was in the dark waters of the Tennessee River at night. At first I wasn't all that concerned. I'm familiar with the area, the dam was off so there was no current, and the water was low, and I mistakenly thought the keys were in onlhy a couple of feet of water. I knew they weren't going anywhere at any rate, so I wasn't exactly in a hurry to retrieve them. As it turned out, when I did go in the water to get them, they were just under two meters deep, and the water in that spot was up to my neck.

Obviously I didn't take the time to take pictures that night, things had just become unexpectedly complicated and I had a lot on my plate at the time, but luckily I did have a Fenix LD22 flashlight in the console of my truck. The above photo was recently contrived just as an illustration for this article, but that same flashlight spent almost an hour tied to a stick with the cut-off hem of my t-shirt and held a few inches from the bottom of the river so I could see the bottom. I had to be able to light the rocky bottom, but look down from above the surface, due to the fact that the water was so silty and murky. There simply was no seeing anything clearly with my eyes under the water, even with the light in my hand a few inches in front of my face. 
I was lucky in a few ways that night. I was fortunate in that she made time to stick around and help me, because of the distance from the pier down to the water in the darkness I would need her help to be sure I was in the right location to search for my keys. And I was fortunate that I had that light in the truck. It earned its keep that night, and made a Fenix light fan of me. Hence my purchasing the E12 and using the packaging  as an illustration for this article. Whether it be the gear we use, or the people we choose to spend our time with, the quality of what we carry and those whom we bring into hour lives play a very important role in the overall quality of our lives.

---
---
Leave a comment
Comments will be approved before showing up.