Lights-2, Keeping Them Lit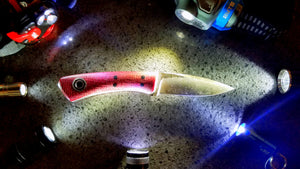 A few weeks ago I wrote an article on portable lights. In it I talked about some of their common uses, or at least some of my uses for them, but mostly I talked about a few characteristics and attributes that are good to have in them. In the middle of writing that one, I realized there was more to the "Lights" story than I could fit into one article. I knew then that there would need to be a series of articles in order to address the subject well. Having gone into a few of the important reasons for having a light handy in that piece, I thought it would be good to say a little more about the various types of lights, the times they can be extremely handy to have around, and ways of keeping them powered in this one. Because, as everyone knows, a dead light is even less useful than a dull knife.
With my busy life, personally and professionally, it seems I am always on the go, and my life has been extremely dynamic since the day my oldest daughter was born 26 years ago. Living out in the suburbs where streetlights are few and far between, and being a father of small children, always carrying a way of producing bright light became a necessity. I prefer to have lights that leave my hands free, so with torches I like the ones that are small enough to hold comfortably with my mouth if I need to. In the above image, the Petzl e+LITE was the first headlamp I bought specifically for storing long term in a vehicle emergency kit because of my long daily commute. I think that was back in 2007 or 2008. If you compare it to the new style, you will see a distinct difference in the LEDs. I do like that the e+LITEs come in protective cases, and they have multiple modes including a red light for preserving night vision. The Streamlight Key-Mate on the right side of the photo was actually bought for my key ring. However, I soon learned that my front was probably not the best place to carry a twist-on flashlight with a big head that turns so easily. It would get turned on in my pocket without me knowing it, and the batteries would get drained very quickly. Other times it would go the other way and the head would get twisted off, and then the batteries would fall out in my pocket. The mini Streamlight I bought with intentions of wearing it as necklace light for easy access to a light when I needed it quickly whilst wearing minimal clothing. However after finding out that I didn't like carrying the larger one in my pocket, it became the necklace light and the mini became a backup light stored in a first aid kit. 
I've had all three of these lights for several years. The Key-Mate, turned necklace-mate, has traveled all over the eastern U.S. with me. It has been in several creeks and rivers, and has been in the Gulf of Mexico a few times. I couldn't tell you how many times that light has been turned on and off, or how many times I have changed the batteries. I think I may have changed them seven or eight times. The first couple of years I carried and used it a lot, so the batteries were changed two or three times a year. The e+LITE got used more than I expected in the early days. Hands-free lighting can be very handy whilst changing diapers on the tailgate of a truck on a country road late at night, and it has served me well through a few power outages as well over the years. It has two large batteries, and they last a good while really. I think I may have changed them out twice now. The mini has hardly been used, and I think the batteries in it may have been changed once in the 7 years I've had it. I've had all three of these lights for several years, they still work fine, and as far as producing light the have all performed more than adequately. However all of them share a characteristic I have come to not really care for. They all take specialized batteries that aren't widely available.
The pharmacy over there, the Walgreens in the left in the above image, has an excellent selection of button cell batteries. They carry pretty much any size button cell battery one might ever need for a hearing aid, thermometer, watch, or flashlight, and that can be a good thing to know. Yet in the summer time, as now, most of them in the cities near me are only open for a couple of hours after sunset. In the darkest hours of the night, when we are most likely to need a light, most of the pharmacies will be closed. In that case, in my experiences here, the nearest all-night department store – somewhere miles away from the inner city – will likely be our only option for replacement button cell batteries if the ones we have burn out.
The patio at the Westin hotel, where I started writing this article late one Thursday night, is in almost the exact center of the corporate business district of downtown Chattanooga Tennessee. From there, the nearest pharmacy, another Walgreens as a matter of fact, is a couple of miles away. It's two blocks north, nine blocks west, and a half mile across a bridge over the Tennessee River. It usually closes promptly at midnight, sometimes a few minutes earlier. This can make replacing specialty batteries somewhat of a headache even during their open hours.
With all of the advancements that have come along in the brightness of LED torch and headlamp bulbs, and because of running into issues with quickly specialty batteries more than once the year before, about six or seven years ago I decided it was time to upgrade several of my lights. I replaced the ones that took button cell batteries with new lights that can operate on the standard alkaline batteries, the ones commonly found in most convenience stores and hotel gift shops. Specifically AA and AAA batteries, because most of the larger cells like the Cs and Ds aren't very common anymore.
A few weeks later, having found myself working in the inner-city sections of Chattanooga Tennessee and Atlanta Georgia and neither place having an abundance of convenient stores in their city centers, I switched to rechargeable batteries. At the time I was buying those batteries and chargers, I found a USB charger I couldn't pass up. It charges both AA and AAA batteries. I am now just starting on my third laptop since I bought that charger, but several years later I still use it when I am working remote. I use it to charge the batteries for my lights and the batteries for my wireless mouse. I think at this point it has probably paid for itself a dozen times over, and helped me avoid a lot of stress.
Having grown up rough the way I did, having to finish raising myself on my own, I've learned a good many things the hard way through over the years, through the process of trial and error. I hope I can share a few things through the articles I write, that give some of you food for thought and help some of you skip a few of the steps I've taken.       
---
---
Leave a comment
Comments will be approved before showing up.