Locations, Locations, Locations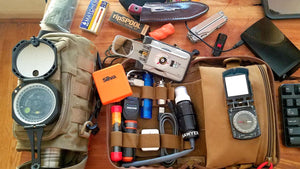 Most of the time when the phrase "location, location, location" is used, it's in a larger geographical context. It usually refers to a good place to live, vacation, or set up a business. Or maybe the best place for a camp site, hunting blind, or photography observation point. However in this case it's about something much smaller but no less important, where we store specific items in our kits and why.
When it comes to the things we carry to get us through our day, we've developed these teams of items based on our own individual hierarchy of needs we've discovered over time, and then cross-referenced with the possible needs of anyone close to us who may also be effected by any events we encounter. For instance I don't personally have a need for tampons, but the most important people in my life do. And I've carried an eyeglass repair kit for years, long before I needed reading glasses, because I have close friends who wear glasses and I know what a challenge limited sight can present.
When we're out on a lunch date dressed casually, how we carry things isn't as important as say on a journey through unfamiliar woods. For starters we only have so many pockets in which to carry things, and limited space in those. Plus it's unlikely we'll need a full-on survival kit just to get through our meal. So we prioritize on basic needs we've encountered on dates before, and rely on our wit for any other solutions that may become necessary. 
For instance, as a writer I always have a notebook and pen for making notes during the day just so I don't lose important thoughts. As a gentleman I always have a lighter to light a candle or burn a loose thread etc.. As an experienced human being I always have a pocket knife and a small torch for obvious reasons. And the pen is usually a sturdy one that can pull double duty, and serve in improvised self defense or defense of my date if needs be.  
One of the most useful tools I've found, and have grown to like most in my hustle and bustle world, is the Leatherman wave that's on my belt any time I'm dressed in day clothes and not out on a date. It has the usual compliment if inner tools and the pliers as usual, however thanks to their newer design of easy-access external locking blades, Leatherman has definitely upped their game in a good way. 
The main knife blades, plain-edge and serrated, can be deployed just as quickly as most other pocket knives. So whenever I have to limit my carry to only one cutting tool in an urbanized environment the wave gets the nod. Though obviously if given a choice, it's paired with a small fixed blade for any sort of food prep or food consumption for reasons of hygiene.  
Out in the wilder parts of our world we tend to carry more things with us. Some of them are just in case measures while we are away from immediate or quick access to those things otherwise. We keep elements like; first aid kits, lights, rescue tools, weapons, and spare ammo in easy access locations for very good reasons. Because odds are if any of these things are needed at all, they will be needed urgently. So we want them to be in locations where they can be accessed quickly, with as little thought as possible, no matter what lighting we're in at the time.
By the end of the day, when it's finally time to relax for a while, the location of my food and beverage will certainly be very important to me. However it is highly unlikely that even then I'll need them with any sense of urgency, even if I go all day without eating. So as a general rule, I keep these elements lower down in the main compartment of my pack, wrapped in a cloth napkin or hank and other items like the spare shirt I almost always carry. This serves the purpose of keeping them; safer from any spills on the bike or dropping of my pack, cooler from them being handled less, and out of my way if I need emergency items to deal with a much more pressing situation.
The whole point of carrying contingency items, whether as EDC or on an adventure, is to be able to mitigate any damage done by mishaps as much as possible. These thoughts are the reason we've learned to carry the things we do carry. One of the biggest factors in this plan working out well for us, is in being able to access the urgent-need items as quickly as possible when they're needed. Most packs have one or two small exterior compartments, and one or two small internal compartments on the dividers at the tops of the main compartments as well. The urgent-need and small hard to find items are exactly what these small compartments are for, it's just up to us to decide what we put in them and why.

---
---
2 Responses
Leave a comment
Comments will be approved before showing up.