Planning for South Africa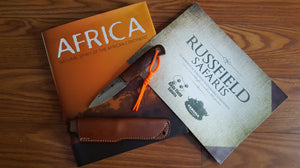 In late July, I will be headed on a dream vacation, a safari in South Africa. I will be joined by friends of Fiddleback Forge, Justen and Liam. We will be guided by the seasoned professional staff at Russfield Safaris. This hunt has been a long time coming. At one point, we even thought Andy was going to join us but with the new shop and knives to be made, we couldn't pull him away from making the sharp tools you enjoy using. With less than 2 months to go, I've been getting my gear tucked away in the corner of my office (ok, it's more like a room with an explosion of gear and piles of awesomeness everywhere in organized messes). This trip is coming up soon and I think it is time to start talking about it more publicly. This is the first of a few blog entries about this epic adventure.  
The Hunt
Africa is a hunting paradise with an abundance of game for the taking. Hunters travel to this continent for everything from high-volume bird hunts to dangerous game. Our hunt is unique. We will be pursuing impala, blesbuck, wildebeest, and warthogs. Now, before any anti-hunters send me death threats, keep in mind we are participating in a plains game management hunt. These animals are overpopulated and our hunting efforts are actually measures in conservation more so than recreation. By the way, we are donating over 150 pounds of bone-in meat to a program called "Hunters Care" that delivers this meat on a weekly basis to local schools for protein-starved children. It's going to be an incredible experience on many levels and each day we go out we are sure to see more game than your usual outfit since Russfield is authorized to use certain land concessions others are not permitted in. This trip will easily fulfil a bucket list line item. By the way, I love death threats from protein-starved American anti's.
The Gear
You may have hunting equipment you are familiar with but you are going with a professional guide service that offers world-class accommodations. I was told I could do this whole trip with only 2 sets of clothes as there is a laundry service taking care of what we wear on a daily basis. Many hunters pack only a carry on bag and rent rifles for the various hunts offered. If I am only traveling with a carry on, that leaves me without a blade and if you know me, you know that is not happening. We will be sleeping in beds a the lodge and eating well each night which means we don't have to pack any camping gear for the bush. However, I'll still have some emergency gear with me in case I get separated and have to bivouac for the night. For this trip, I'm packing enough equipment to document the hunt, to dress comfortably, and to maintain a certain level of safety through preparedness. As always, whenever I travel abroad, I pack an emergency personal locator beacon, spare cash hidden away in my Centerline Systems KeyDC, barter items, compact first-line gear to tuck in my pockets and some second line gear I'll pack in my Kifaru Door Gunner pack. Check out the photos for a better idea of what I'll have with me.
My Rifle
I'm very fortunate to have great friends in the firearms industry. For a trip of a lifetime, I wanted to use a rifle that will last a lifetime. This meant going to one of the best in the business, Robar. My rifle started life as a Remington 700 stripped action. This was sent to Robar to be built into one of their Precision Hunter models chambered in 300 Win Mag. The rifle sits in a McMillan stock and features a 24" Lilja barrel with a Surefire suppressor/flash hider (I won't be traveling with my 7.62 SOCOM Suppressor but I will use it here in the states). Everything about the rifle is customized from the crisp trigger pull to the NP3'ed bolt to the texturing they do to the stock and then coat it with a distinctly green finish. Since this rifle would serve multiple purposes after the hunt, I elected for a bombproof Badger Ordnance optics mount and rings. My optic is a Schmidt Bender Zenith with crystal clear glass and a heavy duplex. I'll eventually purchase a more dedicated optic for long-range marksmanship and this rifle will be able to do it all. I said I wanted one rifle that will last a lifetime and I wasn't kidding.
As for ammo, I'm running Hornady ELD-X in 200 grain loads. Freddie Blish at Robar sent me the test targets from the factor sight in and the 3 shot group at 100 yards was .498". It is sighted in slightly high at 100 yards for a near perfect zero at 200 yards.  
Traveling with Firearms
It's one thing to worry about how to travel domestically with firearms. It is another to travel to another continent with one. In order to take a firearm out of the country, you need to make an appointment with your nearest United States Customs office well in advance to your trip. They will have you fill out a very basic sheet of paper describing what you are bringing and they will stamp it stating you owned it all before you left the country. This is carried with you so when you return there is no question you are returning with items you already owned and did not acquire abroad. You can imagine the United States government doesn't want you to return to the country with all those AK47s and Soviet-bloc weapons. Even though this sounds like a hassle, all it took was a quick phone call, a look at my planner, and a trip to my nearby airport customs office.
The Knife
In this article, I haven't mentioned what knife I'm going to carry over there in South Africa. That remains to be seen but rest assured there will be a Fiddleback Forge knife in my loadout. There are simply so many good choices. I am waiting on a F2 that seems like the perfect little hunting knife and I am torn between taking my signature KE Bushie or my Bush Hermit. You can weigh in in the comments below. By the way, while I'm there I am likely returning with some giraffe leg bone the owner offered to give to me to be made into handle slabs. Imagine what that Fiddleback will look like!
What's Next?
Waiting. This trip is only a few weeks away, barely, and it feels like an eternity. My flight leaves on a Saturday and with ridiculously long layovers in Dubai and Johannesburg, I will be in Port Elizabeth on Monday. Time seems to move very slowly right now but that is a good thing as it gives me time to make sure I don't travel across the pond and into Africa without all of the gear I actually need. In the meantime, I've been monitoring the South African news, reading about the water crisis in Cape Town, the violence toward white farmers, and figuring out my local contacts and orientation to embassies and assets. I'm also spending time with my rifle making sure I don't screw up the shot shooting offhand and with shooting sticks as the rifle is certainly more accurate than I am. I'm running "what if" scenarios and looking over my notes from previous hunts knowing there are experiences I can't even begin to plan for given how unique they are. I'm coordinating with both Justen and Liam and building up the excitement even more than we have to. I'm also telling others it isn't too late (although it is almost time's up) to join us if you want a real adventure abroad. What's next? Africa!
---
---
Leave a comment
Comments will be approved before showing up.