Resilience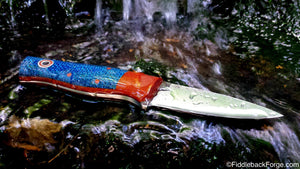 Resilience is, by its very definition, the capacity to adapt to and easily adjust to changes. It is toughness incarnate and durability in tangible form. Take the ink pen for instance. Yes, they are obviously much different today than in their beginnings. The ink isn't made from tinctures of crushed berries, and the pens aren't made out of fragile feathers, so they have themselves been made of more resilient materials over the years. Yet just the continuous existence of the pen and the hand written words themselves, in the presence of such advancements in writing technology, has shown that it has great resilience even in our modern electronic age. It gives me hope that I'm not the only one who prefers notebooks that are powered by passion rather than electric cords and batteries. I can't imagine my life without paper, pens, and pencils and I hope I never have to experience that.
Knife makers, as well as the makers of many other tools, started looking into synthetic materials shortly after the turn of the 20th century. The goal being to make their tools easier to produce and less environmentally sensitive. The best evidence of when this practice became more widely available and less cost prohibitive can be seen in government issued military equipment from around the globe. Military personnel have to be able to function in any environment and in any weather, in order to be effective in their duties. In WW-I most of the furniture on tools and weapons; rifle stocks, bayonet handle scales, shovel handles, etc. was still being made of wood as they had been for centuries. By WW-II much of the wood had been replaced with plastics. By the 1960s most of the wooden furniture had been replaced with synthetic materials and blades made of corrosion resistant alloys were being developed and issued.
Naturally once the military purchasers were able to embrace the synthetic materials on a large scale in a cost effective manner, this drove the research and development even further. By the 1970s most of the furniture on sporting knives were made from synthetic materials. While the Delrin® and Stagalon® handles lacked the heart and soul of the stag and jigged bone they were used in place of, they were certainly more stable and environmentally hardy than the bone, stag, and ivory they were used to replace. The Uncle Henry™ Golden Spike, the lower knife in the photo below, has a Stagalon® handle. And while it lacks the feel and look of the Sambar stag handle on the knife above it, at 40 years old and having seen a lot of use over those years, it has definitely demonstrated its resilience. It has been through several instances of sudden temperature changes while hunting and fishing over the years, going from the extreme cold outside to the sudden warmth inside without cracking or chipping. I have seen where ivory and bone handles have cracked on their first exposures to such sudden changes in temperature.
Of course temperature isn't the only concern when it comes to organic materials, it's not even the most common one. Humidity levels are a more common problem with organic materials. Porous materials such as bone and wood are actually fairly sensitive to extremes in humidity in their environments. Too much humidity and they swell, too little and they shrink. The expansion and contraction can cause issues with bonding, and it can even cause damage to the material itself by causing it to crack. A well oiled wooden handle can easily handle getting a little wet now and then, but when it comes to long exposure to a wet and rainy environment over time, synthetic materials almost always fare better than organic ones.
If you look at most modern commercial butcher and kitchen knives, you'll notice that most of them have synthetic handles. This is because the synthetic handles are more hygienic as they are easier to sanitize. Thus they are less susceptible to contamination from pathogens. Similarly, most knives made for food consumption these days have synthetic handles as well, and for the same reasons. The less porous materials are easier to keep sanitary and they stain less easily.
It is due to their enhanced resilience; corrosion resistance, abrasion resistance, moisture resistance, etc. that the vast majority of items intended for us to use on a regular basis are made of synthetic materials now. Two benefits of this are that there are many more choices in colors options to begin with, and that it is much easier to color coordinate your things, if you like doing that. My youngest daughter's favorite color is blue, and she likes them to complement. You can see that with some of her things in the picture below.
I'm not saying any one material or type of material is any better or worse than any other. Better is relative to the opinion of the user. I'm just saying that some materials are better suited to specific applications than others are. In the end it all comes down to how the knife is going to be used, and reasonable expectations of the materials used.
---
---
6 Responses
Leave a comment
Comments will be approved before showing up.