The .22 Revolver Kit Gun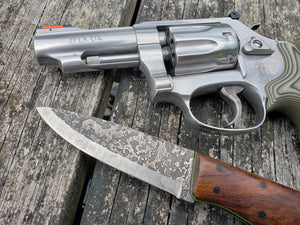 Author's Foreword:
I have a love-hate relationship with revolvers. Sometimes, they make sense. When dangerous game calibers fit better in a cylinder than they do a grip magazine, a revolver is better than an autoloader for self-defense against wild critters. Other times, a revolver is less preferable to commonly carried self-defense pistols like the Glock and SIG as they are heavier, have less capacity, and are slower to reload. Recently, I decided to revisit the revolver after my good friend and outdoor survival mentory, Marty Simon, passed away. Marty carried a .357 Magnum model 60 snub nose. I wanted a similar J-frame revolver to carry for plinking and as a survival kit gun as an homage to Marty. I've long carried a .22 Browning Buckmark pistol but wanted to add a small rimfire revolver to my collection and decided to share some thoughts on the "kit gun" idea here.

A small .22 revolver is often called a "kit gun". Advertising from the mid 20th century shows these little companion handguns dispatching snakes on the trail, punching holes in soda cans on the country fence, and being used for adding the occasional bunny to the stew pot. The kit gun is not meant to be a self-defense pistol but rather a do-all small caliber companion. It's meant to be packed away until it is needed and it may ride deep inside a pack or at the bottom of a deep pocket where it is less likely to get lost. Adding a small .22 firearm to your kit makes sense for a wide variety of reasons. You can hunt game, target shoot for fun, and hone your revolver skills with a caliber that won't beat you up like the larger centerfire rounds. Here's my take on a few considerations you should understand before making the investment in one.

Capacity
Revolvers aren't known for capacity. Most large frame revolvers for hunting or self-defense carry between 5-8 rounds. Depending on what .22 revolver you select, expect a cylinder to have between 5-10 rounds for the most part. Compared to most .22 autoloading pistols with 10 round capacities, the amount of ammunition you carry in the firearm is not going to vary too much. What will factor in is the reloading speed. A single clip needs to find the opening of the magwell compared to 8 separate rounds finding 8 cylinder openings. Still, how many times have you had to reload quickly in the middle of hunting with an autoloading pistol? With a rifle even? The capacity of the revolver kit gun is respectable and perfectly suited for a survival situation. I even found .22 LR speed clips to keep ammunition right at hand in a slimline carrier.
Trainer
The .22 revolver can serve like an excellent training tool for a larger firearm. The double action (DA) mode of a revolver is notoriously long and heavy. Compared to a lighter trigger pull of an autoloader, this makes accuracy much harder as you have to maintain a good sight picture while pulling the trigger completely to the rear. Since .22 ammo is inexpensive to purchase, the incentive is there to purchase more and train more. One of my good friends uses a .22 revolver for an entire month over winter to really focus on building up good habits with a long trigger pull before using his standard carry pistol on the range. Even though the trigger pulls are different, the added difficulty of the DA trigger on the revolver makes a crisp 1911 single action much easier to depress and put accurate rounds on target with a good sight picture.
No Parts to Lose
My friend Marty preferred to carry a revolver in the woods. He would argue an autoloader could lose a magazine accidentally and become a single-shot pistol when it was needed. The revolver on the other hand, has the cylinder protected by the holster and there was no chance of ammo being lost. Simplicity is attractive and a good reason to choose a revolver as a survival handgun. With any gear selection, you are going to have to evaluate the trade off. What is gained and what is lost by selecting an item? What is beneficial and what is detrimental? The revolver doesn't have magazines to lose but the trade off is the inability to carry preloaded magazines.

Minute of Squirrel
How accurate do you need a kit gun to be? If used for snake protection, you would have a hard time arguing a shot one or two paces away is difficult to take on a target the size of a golf ball. When I tested out my Smith and Wesson Model 63, I found the revolver to be accurate when used in single action mode, rested on top of a barrel, and slowly fired at 12.5 yards. I was able to keep all the shots in the black without issue. As I moved further back from the target, I lost my "minute of squirrel" capability. I'm fairly certain I can get within 15 yards from most squirrels, bunnies, and small birds to take a clean shot. Much like taking an extreme long-distance shot with a rifle is considered "shooting" and not "hunting" by many, I don't want to shoot an animal with a kit gun and risk wounding it. Instead, I'll continue training with this little handgun and working back to greater ranges to inspire confidence.

Perfect Plinker
A revolver, a box of .22 cartridges, and a small box of cans otherwise doomed to the recycling bin. That's all it takes to set up a plinking range with a kit gun. Simple challenges are easy to set up like the smallest group, fastest "racking" of all cans lined up on a fence, swinging targets with a little twine, and many more. The little Smith and Wesson 63 I purchased is a seriously fun gun to shoot. The all-steel construction will last forever and there is almost no felt recoil thanks to the heft of it. That said, it isn't too heavy to leave at home and that is the whole idea behind this type of firearm.

The Final Word
Andy from Fiddleback Forge has said, "life is too short to carry an ugly knife." I agree and think everyone should have a KE Bushie. I also think the knife and handgun combo is hard to beat for utility in the great outdoors. Life may be too short if you don't prepare yourself for the unexpected snake that blocks your trail or the bunny you need to harvest to replenish your energy. It's good to have options. Just like I have a whole roll of Fiddleback Forge knives but carry only one on my belt at a time, I still like to tote them all to the woods for campfire carving. The same is true of the .22 firearm. I will always have a larger caliber on my belt or in my chest pack but I'll carry a secondary firearm like the .22 kit revolver just for giggles. They are practical, durable, reliable, and too much fun to leave in the gun safe. 
---
---
Leave a comment
Comments will be approved before showing up.