The Contingent Mind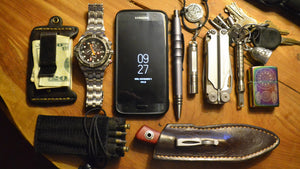 Back in November I wrote an article on a small pocket contingency kit. A little something extra to augment the usual items we carry. Our daily carry gear are actually our first line of contingency mitigation, even if we've carried them so long we've quit seeing that aspect of our edc. Because the whole point is be prepared to tackle our day to day life, and whatever comes with it. To be able to overcome any mundane obstacles we might encounter on any Tuesday morning's commute to work, Saturday trip to the zoo with the kiddos, or a Sunday outing with our congregation after church.
With most of us being at least somewhat addicted to our hand-held devices these days, to being able to stay connected with the important people in our lives, and to being able to illuminate our world at night, the ability to recharge batteries can be a very important one. This is certainly one of the areas where I like to practice complementary redundant systems, like having a back up battery pack that can charge devices, and other batteries as well, multiple times, and the accouterments to charge them all at need as well.
I think most of my days are good ones, or at any rate I try to complain less and enjoy life more. I've come to not mind most of life's smaller annoyances and hindrances so much because I've come to realize the real value they have. To quote Joe Rogan on why we need to experience hardships and adversity in life, "difficult things make regular life less difficult". It is those daunting days we struggle through that give us the ability to truly appreciate and enjoy our very best days. Like a day in February of 2017, when the most challenging thing I experienced all day was in me being able to overcome my shy awkwardness when I bumped into a new friend unexpectedly one morning after her run, and was able to offer sharing my brunch of bagels cheese and fruit with her in a way that she could relax and enjoy. It turned out to be one of my favorite impromptu dates ever.
Our challenges don't just help us get through the regular days more easily, they also teach us that Murphy's law has often has horrible timing. And through those experiences we learn the importance of being prepared for life's more serious challenges whenever we'll be away from home for extended periods of time. Because sometimes self preservation can mean a need to determine direction, other times a need to produce potable water, and still other times being able to produce a solid personal defense. Extra magazines of ammo can add a good bit of weight to a pack, but under some circumstances it's a weight gain very much worth adapting to.  
One of the things that developed very early in a twelve-year stint of doing research and development of tools for multiple companies in the cutlery and specialized weapons industry, was a habit of always carrying a fairly extensive first aid kit. 
Fortunately I never had any serious accidents, just a few minor injuries over the years. However it served me very well when at age 3 my youngest daughter started going to work with me regularly. Because little ones are ever having falls and spills, and cuts and scrapes, and where young children are involved a first aid kit will always pay dividends at some point. I really like the small removable zippered bag in my E&E pack. When I am working only a few dozen meters from the truck, I can always go back for a battery charger or fire starter, but with first aid, time is often of the essence. A pocket-able first aid is almost never a bad idea.
I have brought this up several times before, but since it is officially winter again in the Northern hemisphere I'll bring it up again. It cannot be over-stated just how dangerous cold weather injuries can be, or just how insidious cold weather can be. Our extremities are the hardest parts of our bodies to keep warm, having hand and foot warmers on hand to keep them warm for us can not only make normal adventures much more enjoyable, in emergency situations they can save digits, or even save lives.  
Long before I heard the term "Bugout Bag", my father and I had been packing contingency kits, every time we hit the road for our weekend fishing trips, or to go visit our family in other states. Cell phones didn't exist in 1976, and a lot of the areas of southern Georgia southern Alabama and the various parts of Florida we traveled through, were still pretty isolated in those days. So even pay phones were few and far between in some areas. If anything went wrong it could easily be several hours before help arrived, or it could be a very long walk to go get help. We took being prepared for emergencies  more seriously back then than most of us do today, but in light of some of the events and some of the madness of 2020, and knowing that Mad Max was set in 2021 (just a little levity), taking a little more personal responsibility for our emergency planning these days, and putting more serious thought into being all on our own, could pay dividends in the long run.
---
---
4 Responses
Leave a comment
Comments will be approved before showing up.