The Gift of Preparedness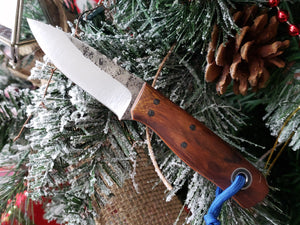 At the end of each seminar I teach, I always open the floor to questions, comments and thoughts from the audience. One question that comes up regularly is, "How do I get my (Insert someone special here) to be more prepared?" There is no singular answer to this question. We may be the most ready people to deal with an emergency and we may have a repertoire of survival skills to draw from but those closest to us may be entirely dependent on our ability. When compared, side-by-side, the newbie will likely notice the disparity in gear, skill and experience and rather than striving to be equal, they simply accept their subordinate position and fail to prepare. They may also not be willing to go with you on your trips or experience the outdoors fearing it is overwhelming or quick to call it "crazy." Crazy to me is recognizing the exposure to danger and doing nothing to mitigate it. One possible answer to the question about introducing your loved ones/friends to preparedness is very simple, give little gifts of preparedness and let your (someone special) find out the value of readiness on their own when these items are used. With Christmas right around the corner, I wanted to give you some ideas how you can "gift" preparedness to your loved ones.
Keychain Items
Most people don't leave their house without their keys and therefore this is a logical place to start. A simple squeeze light will give the gift of illumination to someone who is otherwise unprepared in the dark. Similarly, a small ferro rod like those from EXOTAC are great keychain additions and give the gift of making fire. A small Victorinox Classic or similarly sized knife is a great choice as blades and tools are multi-purpose. A tube or flat whistle will go unnoticed (hopefully not forgotten) until needed. If you can succeed in getting your S.O.S.  to carry these and help steer them into situations where they may need to use them, you can likely get them to carry other items that are slightly larger and more effective. BTW, steer them by insisting they use their item when they would otherwise have you use yours (i.e. dark keyhole, opening boxes, lighting a birthday candle).
See All Exotac Products See Fire Collection
Pocket "Emergency" Kit
Pocket emergency/survival kits are very popular within the outdoors community. They are readily available online, in retail stores and by and large assembled aftermarket with personalized components. The idea of carrying a small dedicated kit is not lost on those who understand it but selling the idea of building a kit may be a hard sell for those who don't even know they should carry some basic emergency items. A great gift for skilled and unskilled alike is a small emergency kit hand-assembled by one of their friends/loved ones. An emergency bivouac kit with a small sil-nylon tarp, emergency blanket, hand warmers, and whistle among other items could be given as a gift. Another kit could be purpose built to take care of minor repairs in your equipment and clothing. Another emergency kit could include a quality spoon/fork, spice kit, and other items an individual would need in a backcountry kitchen. Don't think of supplying your friend with everything they need, just think of giving them something extra that shows them you care and also that you spent some time putting thought and effort behind the gift. These will be more appreciated than just your average gift card.
See All FWS Products
Vehicle Kit
So many of our adventures begin in our vehicles. You may have someone in your life who has a nice car but they don't have it properly equipped in case of an emergency. The little things go a long way with a vehicle. A good backcountry snow shovel can be used to dig out and every car needs at least one good flashlight in case the battery dies. Other items for the vehicle kit can include spare food/water, a warm blanket or sleeping bag, an emergency radio or a set of recovery boards. Something not lacking in the practicality department is a gift certificate for regularly scheduled maintenance some people are not eager to spend their money on. If you want to give a gift of preparedness, help keep your loved one's vehicle running. 

School Bag
If you believe nothing is more important than your children, give them the gift of preparedness too. There are certain items kids can carry in their bags that will better equip them for emergency situations. Hand-warmer packets are a great idea if and when their school bus breaks down (as a teacher and former coach, I've heard about this more often than not). Both whistles and flashlights are legal to carry in their bag as are cartoon-character bandages in a small first-aid kit. Some very practical gift items are identification cards, warm hats and gloves, and even a small personal crank radio. The last item sounds crazy in an age of electronic devices that replace the babysitter but when the batteries run down and kids need something to defeat boredom, a simple radio goes a long way. Last but not least, a small bag of "emergency" hard candies works wonders for improving morale.
Weekend "Coupons"
With any of the gifts given, make sure to provide a quickly installed understanding of how and when to use it. Some items like whistles are self-explanatory but others like a bandana can come with a quick explanation using very vivid examples. Don't just tell someone how to use one or assume they will know it is more than a head wrap, SHOW them it can be used to move hot objects, to cover your face if it is smoky or dusty to wrap around an arm as a pressure bandage. Let them SEE how these objects can be used and maybe they will remember what they saw. Other items like a keychain ferro rod, duct tape and multi-tool lend themselves to quick graphic demonstrations of how to use them. It will be up to you to describe the situation in detail when each would be appropriate.  Keep in mind, preparedness is not just gear, it is training and that means a chance to give your loved ones shared experiences. I still remember learning how to tie flies, how to kayak, how to shoot precision long-range rifle. Experiences can be priceless and they are a gift that keeps on giving.

Invest in items that will save your life or improve how you live it. Like saving bonds your parents bought you when you were just a kid, one day these little tokens of preparedness may pay off and be worth way more than what they cost initially. The holidays are meant to be spent with family and friends. With gifts of preparedness, you may be the reason your loved ones are able to survive little emergencies and celebrate this season with you year after year.  
Kevin Estela's Book
---
---
Leave a comment
Comments will be approved before showing up.