The Modern Warrior Conference 2021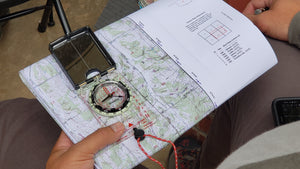 Author's Foreword:
I'm a perpetual student. I enjoy learning and will always be a student for life. Recently, I was invited as a guest to the Modern Warrior Conference. I could not make it last year for the event due to COVID restrictions and I wasn't going to let the highly-survivable pandemic prevent me from going this year. An invitation like this isn't handed out to everyone. This event started in 2020 as a fundraiser for a family member of a veteran and doubled this year in size. Given the interest of those in attendance and their willingness to train paired with the growing unrest found on Main St. America, I predict it will continue to grow and become a regular event. The information provided was both wide and deep and the student in me was refreshed with the wide array of content. Many of the readers of this blog definitely share the interests I have and should think about the importance of this training.

Steel sharpens steel. This passage from the Book of Proverbs remains true today as it did when it was originally written. When strong men and women work with one another, greater strength is achieved. That is the idea behind the Modern Warrior Conference. Over the past year, this nation has been tested and if there is one lesson to be learned, it is that we must work together and rely on one another in hard times.  Men skilled in combatives and strategy working with one another can help other men looking to enhance their own skill sets. Some knowledge must be earned in person and some should not be shared with the masses. Those who wish to protect their families, neighborhoods, and closest friends are willing to give up a weekend to test themselves. The Modern Warrior Conference, that unfolds over 3 days, covers a wide range of topics applicable in the modern world. Starting around 8am each day and running into the late hours of the night, the days are jam-packed and demanding. Students burn through notebook paper and pick up some well-earned bruises in the process.  The experience is as unique as it is physically demanding and above all, it is worth sharing here with folks I believe will find interest in it.

The Instructor Cadre:
Heading up the Modern Warrior Conference were 4 of the top trainers in their respective fields. Combined with a common mindset courtesy of the teachings of the late Pamana Tuhon Chris Sayoc, they helped install important concepts that had universal appeal and overlap. Justin "Master Chim" Garcia is the owner of Jungle Gym Martial Arts in New York and is a highly capable Black Belt in Brazilian Jiu Jitsu, Tuhon Harley Elmore of Warriors Way of Texas is a high-ranking practitioner of multiple martial arts including Sayoc Kali, Innosanto Kali, and various other striking arts. Tuhon Tom Kier is the Director of the Sayoc Tactical Group and a well-versed authority in tactics, blade work, and firearms combatives. Bill Rapier is a former SEAL with a highly decorated career who owns American Tactical Shooting and American Tactical Blades. He is an incredible athlete and outdoorsman on top of his military and professional accomplishments. These men were all approachable and very willing to work with the students on the course. They fed well off of one another contributing supporting information to the blocks of instruction they taught. Furthermore, they broke bread with the men who came for the weekend and helped launch them with a desire to achieve even greater strength after the event.

Content Covered:
My flight arrived shortly after 4pm on Friday and after getting picked up by host David Cagle, I was informed the guys were already on the property and training. When the jeep arrived, I walked over to the garage and found the attendees deeply engrossed in a block of instruction from Tuhon Harley on hand-to-hand combatives. This combatives block focused on taking the opponent's space with powerful entries. In true Sayoc form, this block of instruction was easily layered with the use of blades and concealed pistols. Later that night, a mindset talk was given by the four instructors covering not just the responsibilities of the participants in terms of fighting and self-defense but the responsibilities of manhood. Mindset talks are often scoffed at when they are done just to check a box in a block of instruction. This talk was highly engaging and relevant to everyone as actual examples of successful men and failed men were brought to the surface. Even though the participants were all men, attribution to the valuable contributions of the women in their lives was certainly highlighted. Throughout the weekend, the content covered shifted from low-impact classroom activities like land navigation and understanding ballistics to high-impact training where vehicles were used to fight in and around. Furthermore, participants were run through carbine drills on the range to help them improve their marksmanship capabilities. During each block of instruction, assistant instructors walked the crowd and helped answer questions along the way. Participants rotated through stations with scenarios adding more realism and in true training fashion, on Sunday the heavens opened up and soaked everyone from head to toe.

The Why:
Any outsider looking in could look at this event in any number of ways. Firearm enthusiasts may look at it in envy as others had the opportunity to train with the best in the business all in one place. This event stresses the concept of integrated combatives where pistols or blades can be drawn given the scenario. Dual weapons/tools deployment is a reality and learning these skills from highly trained instructors on the same page is rare. Skeptics may say a bunch of paranoid guys just wanted to show off equipment. That's an easy assertion to assume given the quality gear selected and carried by all of the participants but that assertion is false. The truth of the matter is readiness which is the sum total of awareness, preparedness, and willingness. The guidance and training provided will help set these men in a direction to achieve greater readiness each day. Once you are exposed to this type of training, it is hard to deny the truth behind it or the way it can honestly help improve your capability to protect those who count on you.
Everyone who attended that I had the chance to speak to said they wanted to acquire new skills to protect their families and well-being in uncertain times. This past year has shown us the vulnerability of our supply system. We all remember the rush on toilet paper and the more recent rush on gasoline in the South East.  We've seen people protest and many more riot with the line that separates the two groups obscured by the media. Good business owners were not immune to the actions of the mob. We know violent mass responses to the actions of individuals have disrupted life for so many more. Training, like that provided at the Modern Warrior Conference, felt right after a year plus of COVID restrictions. It was incredible seeing people interact with one another like we did just over a year and a half ago.

As the world moves forward and starts returning to normal, I hope more of you will embrace training like this. Perhaps you will look up these instructors and what they offer individually. Perhaps you will seek out the Modern Warrior Conference 2022 and start training up for it. As this year continues to pass day by day, choose strength and move yourself toward a goal of readiness and acquiring the skills and knowledge to get you there. It can't hurt to have them and not need them but it can to need them and not have them. 

---
---
Leave a comment
Comments will be approved before showing up.