The Ones We Love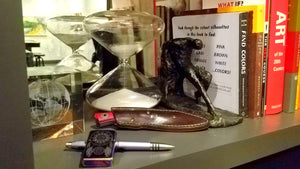 There's an old adage in the outdoor community which says the best survival knife will be the one we have on us. There is a lot of truth in this statement, I dare say the best knife for the majority of our cutting chores all through our lives will be the ones we have with us. Because they're the ones we've spent time becoming familiar with, and are the ones we know most intimately.  Access and deployment are well rehearsed from use, so it happens intuitively and smoothly. Indexing is immediate even in pitch black darkness, and we know all their little quirks and characteristics. Thus using them effectively comes with very little thought, if any. So they're not the best ones simply because they're in our possession, which obviously will be extremely helpful in any case, more importantly they're the best ones because we've had them.
The items we use daily become as old friends to us, because they accompany us on more of our adventures than their living breathing counterparts. I seldom invite a friend to walk to the neighborhood market with me at night but I almost always have a small knife when I go, even on the evenings when I'm wearing pajamas. The main reason is to be able to open any theft-proof packaging if necessary, but it also – as in this case – comes in handy because my favorite beers don't have twist off caps. In fact one of the reasons I like the spalting on Fiddleback Forge Blades is because the texture aids in popping off bottle caps with any scratches being much less noticeable afterward. Like most other things I've done regularly with this knife in the three years since I got it, I've popped enough bottle caps that the motion has become a fluid maneuver, typically unnoticed by anyone more than a meter or two away because the knife is small and fairly people-friendly.
For left-handed people, and those of us who are ambidextrous, the location of the hardware on a handle or sheath can make a big difference in ergonomics and user-friendliness. Some equipment I use is dedicatedly right-handed and often ties up my right hand in carry and use, so I prefer my pocket knives on my left side. Because of this habit, pocket knives with the clip on the other side, and essentially all liner lock folders, feel alien and counterintuitive in my left in my hand now. So deploying and using them requires more thought and takes up more space in my head, and slows any procedure to some extent.
One knife I enjoy very much doesn't get near as much carry time as I'd like. For as of yet it still looks a bit out of place in use at corner markets and sidewalk cafe's, but 2020 isn't over yet.  Andy and I are both huge fans of J.R.R. Tolkien, and his Protagonist model was inspired by one of Tolkien's Eleven characters named Fëanor. Because of its sexy flowing lines, and my life-long affinity for the Lord of The Rings trilogy, it has become my favorite of the Fiddleback Forge models. It's just a bit impractical for edc., so only carry it on hikes through the misty temperate rain forest I live in. As such it only gets used for prepping trail snacks and picnics, and of course some occasional food prep in my kitchen just because I can. Yet because of my love for it, it still spends enough time in my hands that it would be far more intuitive for me, even in unfamiliar tasks, than a great many more practical knives on the market would be. With us humans, practicality doesn't have as much say in some of our decisions as our hearts do.
Speaking of practical survival applications and familiarity, I suppose my ever-present Leathermans (Leathermen?) have helped me survive more of my most important challenges in life than any other knives. Sometimes in tough jobs like cutting damaged belts and hoses on the side of the road at night, and re-tightening clamp bolts. But honestly more often with just little things because they're handy. One of the more prosaic uses, though no lesser in importance, has been using the screwdriver to install batteries in toys on holiday mornings, and replacing backup batteries in my alarm clocks so power outages don't cause me to be late for whatever. Because of all the nooks and crannies, food prep is really the one application I avoid using them for. 
Sometimes the practicality of a knife  is determined as much by the carry system as by the tool itself. For some of my working environments; fields of briers and brambles higher than my waist, waterborne operations, and even just passing through sketchy areas I have to traverse on foot to get to where I work some nights, I like to have a knife mounted inverted on my left pack strap. It keeps it in my field of view, and provides easy access to it above the briers or water. Even when I've used my pack as an improvised float to cross a wider body of water, instead of the knife being out of sight on my belt below the surface of the water, where the protruding handle can become an entanglement hazard. 
Speaking of surviving 2020, now we're on to another area where smaller edc knives come in handy. In a world where most of the metal flatware has been replaced by plasticware as a contamination mitigation measure. As a writer I sometimes spend more time seated than is good for me, and because of this I try to keep my snacks as healthy as possible. So it was a very pleasant surprise to find the Walgreens on the strip in Gatlinburg has a fresh produce section. Though with only plasticware available there, and back at my hotel, I was glad I was already equipped well enough to get on with life. Even a small knife with a sharp steel blade is far better for processing avocados than a plastic butter knife.
I've jokingly referred to my pocket knives as my "2020 Survival Knives" more than once over the last 10 months, in various venues all over the Southeast U.S.. I've been told a few times that "they're too small to be survival knives", which always makes me laugh inwardly thinking of the tiny shards of stone our ancestors used to survive an ice age. As bad as 2020 may be currently, thank God it still hasn't gotten anywhere near that bad yet.  And so far, as with the people in our lives, the tools we love are still the best ones to have along no matter what.  

---
---
2 Responses
Leave a comment
Comments will be approved before showing up.