To Go Only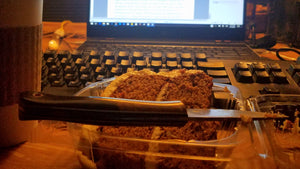 After our efforts to support all the local businesses and craftspeople we cherish; before, during, and after the busting of the housing bubble in 2008, and doing our best to help some survive the economically stagnated environment that was the 8 years that followed, we find ourselves once again in a similar situation. Now, in order to slow the spread of a new iteration of SARS, the new SARS CoV-2, all of our local stores and eateries have been forced to close or embrace a policy of to-go or take-out only during this crisis. So, now what do we do?
Due to all of the fear-induced panic, in some instances we are just going to have to accept that some places are gone now. And that's survival of the fittest in action. In looking around at the various responses I've seen in, it appears as if the level of anxiety was so overwhelming for some people all they could manage was a small hastily scribbled and barely legible note in a window. Some  with questionable wording that perhaps alludes to a moment of emotional hysteria. The employees of multiple restaurants I attempted to revisit after the school closings here had bugged out so fast they didn't even bother to put up closed signs at all. Their doors still had signs saying "to-go only" for days and weeks after they had closed.
Conversely for a variety of reasons ranging from; doing their best to save a family businesses, to trying to remain open in order to support our overworked essential employees in various fields and our first responders (some of whom are family and friends) in this time of confusion, to a combination of the two other places like the Armando's on Lee Highway are leaning into the situation and rising to the challenge. They are making their open signs bigger, brighter, and much more visible to the passersby, who are often preoccupied and stressed out at this time. Thus those who are following both our hearts and our Governor's direction, and are out spending long days looking after the others in our community who need help can quickly determine who is open supporting us. Without having to waste more of what valuable time we have during the day trying to figure out if a business is open or not now.
And when you've spent as many hours of your day as you can spare figuring out the logistics of helping people in need in all different parts of a city and executing a plan, and your mind is just as exhausted as your body, being able to quickly pull in and get curb-side-served sustenance and get back in motion is wonderful. It's also a very powerful tool for keeping the people who are fighting the good fight up and going.
Having an attitude very similar to my own, these two lovely ladies had also stopped in at one of our favorite eateries near closing time after a long Monday. I was getting mine to go, to share with someone special in my life who wouldn't be ready to eat for a half hour or so after the restaurant closed. I wanted mine last so it could still be at least somewhat warm when dinner time arrived. These ladies wanted to take advantage of the restaurant being closed, and no more people popping in, so they could eat their food sooner while it was still hot while still observing the social distancing protocols in public. There was a common motivator for all three of us in stopping by this particular restaurant. We are very fond of it, and remembering businesses lost as casualties of a lack of support during the economic troubles of 2008 and 2009, we would like to see this one and a few others survive this confusing period of economic struggle, even if it does mean us going out of our way sometimes to do so.
Tucked neatly into the Southwest corner of the first floor of a dual purpose structure on Walnut Street, with commercial space below and residential above, is The Walnut Bridge Market. Which is very conveniently located for all of the essential workers in the medical field who live in the surrounding condominiums, in the area from the river to 4th Street and between Walnut and Cherry Streets. As well as for all the first responders who work in and near the general area. They stock a fairly wide variety of foods, drinks, and sundry items for the people of their community.
Another business serving the south shore side of Chattanooga is The Ice Cream Show. Much like The Walnut Bridge Market just down the street, their business has been largely tourist based since their opening about 10 years ago. Until this past week they had been remaining open normal hours through the struggle to serve refreshment to their community, just as they have since they opened. But now they are down to closing at 7pm. They are one of very few places who serve coffee and tea even open in the evenings in that area which I used to spend a lot of time in on foot working. So, for the past few weeks I have made a point of driving past all of the corporate convenience stores, Circle K etc., on my route home, parking sometimes two blocks away, and walking to The Ice Cream Show to get my last cup of coffee for the day and sometimes a little something for dessert as well or just as a treat. In order to do some small part in helping the small business we've loved and help grow survive this.
Just to clarify things, that some little something for dessert I sometimes get isn't just for me or for the purpose of supporting a local business. It's also a nice way to treat my daughter, who has been a real trooper through all of this ordeal, and tend to her morale. To provide her with some small little something to remind her that just because some things have changed and become more challenging, doesn't mean that life as we know it has come to an end just yet. That there are still some good things in our world, and that good things are worth fighting for.
Life is an all-too-short series of mysteries, the events of which are utterly unknowable in foresight and can only be learned via living them. Everything in our world is only temporary on the grand scale, and all things come and go. Yet it's a nearly universal truth that all relationships, regardless of their nature, which are nurtured supported and treated like they matter have a tendency to last far longer than any which are taken for granted and neglected. So if we really love something, anything at all, we get far better results when we act like it, treat it accordingly, and make some sacrifices on its behalf.   
---
---
Leave a comment
Comments will be approved before showing up.