Water Water Everywhere... Just Be Careful What You Drink...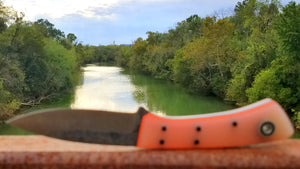 With water being quite firmly entrenched at number-3 in the human hierarchy of basic needs, most of us are aware of just how dependent on it we are. Yet as such a basic requirement for life, it is typically so well tended to by our municipalities that we often lose sight of just how badly we need it until it's not there. The consecutive breaking of two of our local water company's 36-inch water mains in two weeks in September, and it leaving many without access to water for a few days, was a poignant reminder of just how fragile the infrastructure of our waterworks really is. And thus so too is our access to potable water.
I think most of us are health conscious enough these days to understand the importance of proper hydration.  Thus a lot of us carry water everywhere we go to ensure we consume our daily requirements. By keeping it in sight we keep it in mind so we don't forget. The only real problem is that potable water is typically so readily available to us, and all around us, that we sometimes forget just how dependent on the local waterworks filtration systems and delivery trucks we are for safe drinking water.
The practice of drinking wine with meals is seen these days as being more romantic, or perhaps more decadent, than practical in the civilized parts of the world as we know it today. However, that practice didn't come about solely due to people preferring the taste and intoxicating effects of the fermented grape juice over the blandness of water. At one point in human history wine was the only safe drinking option in a lot of places, because the groundwater in almost all urban centers was already unfit for human consumption thousands of years ago, but the technology to properly filter and purify it would not exist for many years to come.
Even in the areas of the world where water is plentiful human habitation alone, regardless of any agricultural or industrial influences, commonly renders most of the groundwater and the water in urban streams and rivers dangerous to ingest through the biological contamination of human waste. So to this day most urban groundwater is still unsafe to ingest until it has been treated in some way. Luckily today we have developed multiple effective means of treating and filtering the water to make it safe to consume.
When it comes to having a plan B as for potable water, which is something all of us should have given our dependency and plans C and D as well, most reputable sporting goods stores offer a variety of options for dealing with organic contaminants like: protozoa, bacteria, particulate, and even viruses in their hiking and camping departments. As you can see in this display our local REI store offers quite a few. From highly portable tablets and drops and UV pens that will fit in a pocket, on up to larger filtration systems more suitable packing and longer stays in remote areas and/or larger groups of people.
I have carried a Lifestraw in my kit for several years now, ever since some friends who are missionaries gave me one. They had come to rely on them for clean drinking water in some of the worlds most dangerous environments as far as biologically contaminated water goes, and shared their experiences with me. Lifestraws are light, durable, have no shelf life, and are easy to clean and maintain. They will filter bacteria, parasites, and microplastics from over 1000 gallons of water, which is five years worth of water for one individual.
When it comes to biological and large particle contamination, there are other ways one can approach it in order to produce potable drinking water if a commercial filtration system isn't available. In a pinch ground water can be poured through a coffee filter, a bandanna, a shirt, or even an improvised filtration system made from a discarded bottle filled with pebbles and sand with a few small holes poked in it, to remove the larger particulates. And then it can be boiled afterward, or exposed to a minimum of 6 hours of sunlight in clear containers, to kill any biological contamination that passed through the filter. Using a prefiltering system like the coffee filters mentioned above, to remove any sediments from water before running it through any commercial filtration system, will extend the service life of that system's filter.
Chemical contamination however is a harder problem to solve safely, and with all of the petroleum distillate residues that get washed from roads into the storm drains that feed into streams and rivers, the water in urban environments can suffer from chemical contamination in much the same way as the groundwater in agricultural areas. Some of the more advanced portable purifiers, like the MSR Guardian and First Need XLE will remove some of the larger chemical contaminants, but so far there are no portable purification systems that can handle high concentrations of volatile organic chemicals or heavy metals. So at this point it is still best to avoid collecting or ingesting groundwater water from areas likely to be chemically contaminated.
When it comes to water, something every animal on this planet is hopelessly dependent on, redundant systems is almost never going to be a bad idea. Most of us who have experience with natural disasters, city-wide power outages, and water main breaks already keep the recommended 72 hour emergency supply or more on hand, and that is a good thing. Yet studying the happenings associated with some severe natural disasters, like Hurricane Katrina in 2005 and the eruption of Mount St. Helens in 1980, teach us that we may well need more than a 72 hour supply of drinking water, and that carrying that much of it on our persons if we have to evacuate on foot is not feasible. So it is a good idea to make an honest assessment of the real threats in the areas we live in, the needs those events would cause, and then outfit ourselves accordingly with redundant systems.
---
---
3 Responses
Leave a comment
Comments will be approved before showing up.