Waynearing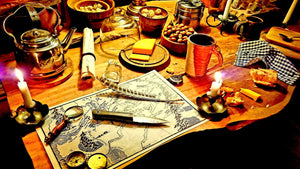 Sometime in fifteenth-century England a new word came to be. It was a new term for travelers who went abroad through the countrysides, especially those who traveled longer distances on foot. It has gone through a couple of spelling changes since then, but the modern version we use today is Wayfarer.
At that time it would be a couple more centuries before table knives would even become a thing, and most inns didn't supply knives with meals. Eating foods with bare hands and fingers was still a common and accepted practice, in fact at that time how many fingers the person used when eating was used to gauge their social status. So the inn keepers would only portion the foods into what they considered manageable sizes, and if the patron wanted the hunks of food reduced any further, for whatever reason, it would be on them to supply the knife to do it with. For most wayfarers this wasn't an issue, they were usually just glad to be under a dry roof by a warm fireplace and didn't mind at all supplying their own cutlery. 
Most wanderers in the middle ages carried knives with them wherever they went anyway, so they certainly carried them when they traveled through the countryside for multiple reasons. Since there were no fast food restaurants along the way, those who roamed great distances would need to hunt wild meats along the way if they wanted any. Thus they would need to be able to clean, cook, and portion any game they hunted. And with them being out in the wilds, away from those who governed the rule of law, they may very well be obliged to defend themselves in a hard world as well. So at that time personal knives were seen as weapons first, and common every day utility was a secondary consideration.
Now seven centuries later, whether by taking our own vehicles or taking mass transit, most of us regularly travel much greater distances in an hour than those fourteenth-century wanders could have managed in a couple days of pushing their hardest. And we do so traveling lighter with much more advanced tools in the process, and usually using Google Maps' global positioning system on our smart phones to navigate our way there and keep ourselves on course through any necessary detours.
These days, with the cosmopolitan nature of almost every developed nation on Earth after centuries of global immigration, we live in such a wondrous and remarkable time. For if we like, and many of us often do, we can easily experience the cuisine of more cultures in a single week than most of our Middle-English counterparts experienced in their entire lives. Indeed, in some eateries with all the various courses and beverages on offer, we can exceed most if not all of their culinary experiences in a single meal.
Yet even today I almost never encounter an eatery that supplies sharp knives with their meals. Or at least not ones sharp enough to neatly split a burger on a lunch date, when you have a really busy evening planned and want to maintain a high level of mobility. Which is fine by me, as I too am almost always more than happy to supply my own cutlery.
After wandering several miles through urban woodland trails, and crossing a wide river in the blustery winds rain and mists of a cold autumn night, I'm usually much to glad to have made my way to shelter, and be enjoying the view while warming my old bones by the fire to mind supplying my own cutlery.
Having spent the last four decades meandering many pathways through several large cities at night, I have learned from personal experiences that the danger levels in the darker and more remote areas of our modern urban jungles are sometimes only marginally improved over those encountered by our wayfaring ancestors. So just like my fellow wanderers of by-gone days, even when it is only a three mile walk to one of my favorite coffee houses and back, I still take the possibility of having to defend myself in a hard world into consideration.
We live in such an amazing time in our known human history, with so many things wondrous things out there just waiting to to be experienced. Life is shorter than we think it will be at first, and it really does fly by. Wherever your adventures take you, whether woodland wildernesses or urban jungles, I hope you do find some things worthwhile and enjoyable in every one of them. 
---
---
2 Responses
Leave a comment
Comments will be approved before showing up.