Big Changes: New Shop, New Site, New Fiddleback Friday, New Team Members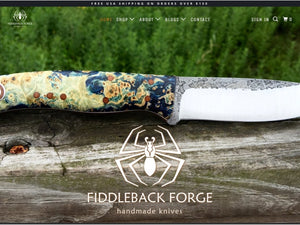 The New Shop
Fiddleback Forge has recently undergone a series of major changes. With any good business, it's a constant cycle of growing then simplifying and streamlining...only to repeat the growth/simplify/rinse/repeat cycle all over again. We're currently in the "simplify and get ready for growth" phase.
As many of you know, Fiddleback Forge has operated at our Cumming, GA shop for several years now. It's a big shop, with alot of space. Which was a good thing since it was run as a co-op for knife-makers who had graduated from Apprentice status to real-deal knife-makers of their own right. But it's a big space...too big...which comes with it's own challenges when it comes to maintenance, cleaning, and most importantly...expenses! So we're streamlining to a shop space with a more efficient layout so that we can be even better at what we do best...making great knives. Our crew is staying the same size, and so is our production (god-willing). But with a couple of knife-makers who have started their own shops in the past year, vacating our shop, it's the perfect time to make the move to the new shop!
Our new shop will be located in Braselton, GA. Our move is in progress and will be completed in early May of 2018.
The New Website
Along with the streamlining process of the backend of our business changes, we're making changes to the front end of the business too.
Our website has been long in the tooth for a while now, so we're putting it out to pasture to live out it's last days. And since we're updating the website anyways, why not shoot for the moon and make it great? And since we're into streamlining the shop, why not streamline our business model, marketing, shipping, etc. while we are at it? So that's exactly what we are doing.
The New Fiddleback Friday
The new FiddlebackForge.com will be a full-blown e-commerce site. We'll be moving Fiddleback Friday sales to the new site. But don't panic, we'll still have previews, community discussions, and exclusive behind the scenes on our Blade Forum sub-forum. We're only changing WHERE you buy on Fridays. This should help a larger audience be able to take part in the weekly feeding frenzy of the sharks. By moving the sale part, it will make the process more simple for both the customer...and us.
The New(ish) Team Meambers
But wait...there's more...we're outsourcing the marketing, sales, & fulfillment to a team that we already work closely with...and one that has been a good steward of our brand, quickly becoming one of our most symbiotic relationships to date. Who is this team? Fiddleback Outpost!
While Fiddleback Outpost has always been a separately owned and operated company, they have always worked hard to promote our brand and sell our products. They are staying an independently owned and operated company, and will continue their site also (with some big changes of their own, read their post on their site for more information). We are entering an agreement with them that they will run our website, sales marketing, online sales, online support and shipping for us. That means that part of our business will run better than ever so we can focus on making great products.
The Fiddleback Outpost team will contribute to our YouTube, Facebook, Instagram, & Blade Forums' account...but we will still post regularly as we have been with behind the scenes shop activity. Phillip (Vance) will continue to be the main point person on Blade Forums, with Fiddleback Outpost taking up the majority of the interaction on our social media accounts...as well as any customer service emails related to the sale or shipping of what's on the site.
What About The Other Dealers?
Our relationships with our dealers is very important to us, and will continue to be as we move forward. Our moves are based on the need to grow our brand and business as a whole...this will be as good for dealers in the long term as it is for us. We will continue to provide knives to our dealer network as they order them, as best we can, like we always have. Although it appears to be a massive change to how we do business...it's not all that different at this point. We have always sold knives direct through our sub-forum, and Fiddleback Outpost already sells a large percentage of our products through their own efforts. We are just combining those efforts to be more effective at marketing the brand...by putting them in one place.
What about Outpost's website?
If you are wondering if we'll sell other stuff on the new FiddlebackForge.com site...not really. Other than brand-specific items, we're only selling our knives. We will likely also allow our current apprentices to sell their approved knives their as well if they wish to. That being said, Fiddleback Outpost plans to continue selling gear on their own site, including items that are in line with our brand...such as leather sheaths, strops, bushcrafting gear, etc. 
---
---
3 Responses
Leave a comment
Comments will be approved before showing up.