Fiddleback Friday 11/5/21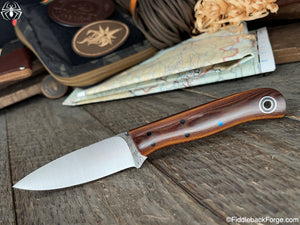 Knives post Fridays at 9PM EST
---
Hiking Buddy - Vintage Linen Micarta - Commando - 3.25" Blade - 7.25" OAL - 3/32" A2 - TT - 211101 01 - $390
EDC II - Vintage Linen - Commando - 3" Blade - 7.5" OAL - 1/8" A2 - TT - 211101 02 - $430
Drop Point Renegade - Opal G-10 - Black Liners - White Pinstripes - 4" Blade - 8.25" OAL - 1/8" 8670 - TT - 211101 03 - $380
KE Bushie - Curly Walnut - Natural Liners - Tiffany Blue Pinstripes - 3.875" Blade - 8.375" OAL - 1/8" 8670 - TT - 211101 04 - $390
---
Knives by J.B Knifeworks
J.B. Knifeworks Brutus Knife - Tiger Stripe Golden Maple - Natural Liners - Yellow Pinstripes - 4" Blade - 8.625" OAL - 1/8" CPM MagnaCut - TT - 211101 05 - $435
J.B. Knifeworks Sharp Finger - Large Weave Smoke G-10 - Natural Liners - Tiffany Blue Pinstripes - 3.25" Blade - 7.5" OAL - 1/16" 8670 - SFT - 211101 06 - $290
J.B. Knifeworks Mini Delta Drop Point- Marblewood - Natural Liners - White Pinstripes - 3.25" Blade - 7.25" OAL - 1/8" CPM 154 - TT - 211101 07 - $345
---
Knives by Warlander Enterprises
Warlander Enterprises Musk Ox - Box Elder Burl - Natural Liners - Blue Pinstripes - 4.5" Blade - 9.375" OAL - 1/8" A2 - TT - 211101 08 - $430
Warlander Enterprises Lynx - Bluerie Ridgeback G-Carta - Black Liners - Blue Pinstripes - 4" Blade - 9" OAL - 1/8" 8670 - SFT - 211101 09 - $385
---
Knives by W.A Surls
W.A. Surls Cohort - Vintage Cheddar Paper Micarta - Natural Liners - White Pinstripes - 3" Blade - 6.75" OAL - 1/8" A2 - TT - 211101 10 - $340
W.A. Surls Chestatee - Mocha Paper - White Paper Spacer - Mosaic Pin - 3.125" Blade - 7" OAL - 1/8" A2 - Hidden - 211101 11 - $300
---
Knives by Cohutta Knife Co.
Cohutta Knife Co. Patch - Ironwood - Natural Liners - Red Pinstripes - 3.25" Blade - 7.25" OAL - 5/64" A2 - SFT - 211101 12 - $275
Cohutta Knife Co. Camp Crafter - Emerald Redwood Lace - Natural Liners - White Pinstripes - 3.75" Blade - 8.5" OAL - 1/8" 8670 - SFT - 211101 13 - $320
---
Knives by Ocmulgee Knife Co.
Ocmulgee Knife Co. Savage - Emerald Mango - Black Liners - White Pinstripes - 5" Blade - 9.375" OAL - 1/8" 8670 - SFT - 211101 14 - $325
How Fiddleback Friday Works
The rules are quite simple. Once the knives post, the first person to
complete
the checkout process gets the knife. There are no limits to how many you can buy. However, it may take you longer to put 3 knives in your cart than it takes 3 other people to checkout with only 1 knife. Unsold knives will stay here until Thursday of the following week. They will still be on the site listed with other
Available Knives
 after that.
Payments & Shipping
Our checkout accepts both PayPal or credit cards. In the USA, we are currently offering the options of USPS Priority Mail, USPS Priority Mail Express, or UPS options. International orders are currently UPS only. Rate depends on country and are calculated at checkout. Taxes and Customs Fees are subject to your countries laws and will be collected from you upon delivery, if required. We ship next business day after purchase. We ship Monday-Friday unless there's a national holiday or something unforeseen occurs.
---
---
Leave a comment
Comments will be approved before showing up.