Fiddleback Friday 12/27/19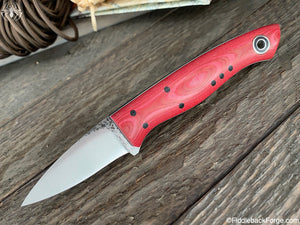 Knives post Fridays at 9PM EST
---
Pocket Ninja - Stormy Sky Box Elder Burl - Natural Bolsters - Natural Liners - 2.5" Blade - 5.5" OAL - 3/32" A2 - SFT - 191224 01 - $300
Runt - Glacial Jade G-10 - Custom Shop - Natural Liners - Blue Pinstripes - 2" Blade - 5.5" OAL - 1/8" S35VN - SFT - 191224 02 - $215
Protagonist - Ruby Burlap - Black Bolsters - Black Liners - 5.5" Blade - 10.25" OAL - 5/32" A2 - TT - 191224 03 - $445
F2 - OD Micarta - Natural Liners - White Pinstripes - 3.25" Blade - 7.375" OAL - 1/8" CPM 154 - SFT - 191224 04 - $350
Bushcraft Karda - Bubblegum Micarta Black Liners - Tiffany Blue Pinstripes - 2.5" Blade - 7.25" OAL - 3/32" A2 - SFT - 191224 05 - $290
Bushcraft Karda - OD Micarta - Natural Bolsters - Natural Liners - 2.5" Blade - 7.25" OAL - 3/32" A2 - SFT - 191224 06 - $330
Gambler - Midnight Curly Maple - Black Liners - Yellow Pinstripes - 3" Blade - 7.75" OAL - 1/8" A2 - SFT - 191224 07 - $300
Camp Muk - Natural Canvas - Natural Liners - Orange Pinstripes - 4.5" Blade - 9.5" OAL - 5/32" A2 - TT - 191224 08 - $365
Shank - Scarlet Burlatex - Natural Liners - White Pinstripes - 3.5" Blade - 7.75" OAL - 3/32" A2 - SFT - 191224 09 - $290
Bushcrafter Sr - Bone Micarta - Natural Bolsters - Natural Liners - 5" Blade - 9.5" OAL - 1/8" O1 - TT - 191224 10 - $445
Bushcrafter - Maple Burl - Black Liners - Orange Pinstripes - 4" Blade - 8.5" OAL - 1/8" A2 - TT - 191224 11 - $370
Neckmuk - Python Micarta - Black Liners - Lime Pinstripes - 2.125" Blade - 5.325" OAL - 1/8" A2 - SFT - 191224 12 - $260
Patch - Desert Tan G-10 - Natural Liners - Blue Pinstripes - 3" Blade - 7" OAL - 1/8" A2 - TT - 191224 13 - $330
Esquire - Burnt Orange Micarta - Black Liners - White Pinstripes - 2.75" Blade - 6.5" OAL - 1/8" CPM 154 - SFT - 191224 14 - $350
Kephart - Black Ash Burl - Custom Shop - Natural Liners - Lime Pinstripes - 4" Blade - 8.625" OAL - 1/8" S35VN - SFT - 191224 15 - $275
---
Apprentice Knives
J.B. Knifeworks 8" Chef Knife - Fire Dog Micarta - Black Liners - White Pinstripes - 8" Blade - 12.875" OAL - 7/64" S35VN - 191224 16 - $475
How Fiddleback Friday Works
The rules are quite simple. Once the knives post, the first person to
complete
the checkout process gets the knife. There are no limits to how many you can buy. However, it may take you longer to put 3 knives in your cart than it takes 3 other people to checkout with only 1 knife. Unsold knives will stay here until Thursday of the following week. They will still be on the site listed with other
Available Knives
 after that.
Payments & Shipping
Our checkout accepts both PayPal or credit cards. In the USA, there is free USPS First Class shipping for any order over $150. You can pay to upgrade to Priority Shipping during checkout if you'd like to. International is up to $50 USD per order for USPS Priority International Mail. Rate depends on country. We ship next business day after purchase. We ship Monday-Friday unless there's a national holiday or something unforeseen occurs.
---
THROUGH 12/31/19
BUY 1 KNIFE,
GET 2ND KNIFE
20% OFF!
 
Discount automatically applied at checkout
Discount applies to lesser valued knife. No limit on number of knives purchased per order using discount. Offer ends 12/31/19 at 11:59PM EST. Knives must be on same order to receive discounted price for 2nd model chosen. Offer good for Fiddleback Forge knives on website only (FiddlebackForge.com).
We reserve the right to change, or clarify, this promotion if needed, at our discretion.
---
---
Leave a comment
Comments will be approved before showing up.