Georgia Knifemakers' Guild Meeting at Fiddleback Forge's Shop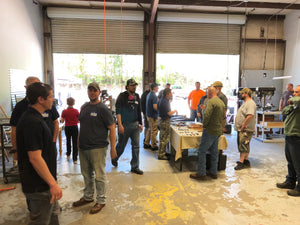 Fiddleback Forge was honored to host the Georgia Custom Knifemakers' Guild meeting this past Saturday. The Guild not only features some of the best knife-makers in Georgia, but in the country!
The event was much larger than it appears to be here. I was a little pre-occupied chatting with everyone and forgot to take more pictures. We may collect more from other attendees and post them here as well.
This may be the last meeting we host at Fiddleback Forge since the new shop has limited parking available. We're officially moving shops this week, so it was a nice way to celebrate the last days at the shop that has served us well over the last few years.
---
The theme of this meeting was a team event. Each team had a seasoned knife-maker and a newbie knife-maker. Our very own Russell Reece, aka. Cohutta Knife Co, teamed up with our very own Phillip Chappell, aka. Vance. You could say they had a good time making the "Vanhutta"...or whatever it was they ended up calling the thing.
---
Allen Surls, VP of Fiddleback Forge and head of WA Surls Knives, was there helping out, as he's heavily involved with the Georgia Knifemakers' Guild. He was formerly the President of the organization.
---
Here Russell is cleaning up some final touches on the "Vanhutta" collaboration piece. Phillip did some things on the knife he typically doesn't do on any of the knives during his normal time in the shop. Phillip did alot of the grinding work and handle shaping. He normally doesn't man the grinders...but did a great job!
---
Andy is doing his normal routine and passing down tips and tricks to a newer knife-maker, Mike Russo. Here, they're discussing guard shaping. Mike Russo is an apprentice of Chris Linton of Osprey Knife & Tool (Andy's former apprentice). Look out for Mike's work in the near future. He's learning a ton about making great knives by working with Chris and his knives are looking good. He is one to watch in the near future!
---
Below are some of the great knives on display from the various members of the Georgia Custom Knifemakers' Guild
---
---
1 Response
Leave a comment
Comments will be approved before showing up.