Melissa Miller of Naked & Afraid Interviewed Online for The Prepping Guide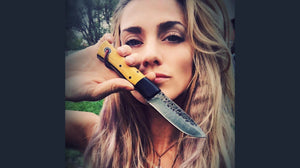 We came across an interview on ThePreppingGuide.com with Melissa Miller, star of the Naked and Afraid series on Discovery Channel.
You may recognize Melissa from the show, or you may have met her at Blade Show in Atlanta this past June while she was working with Fiddleback Outpost at their booth. The Prepping Guide did a great job interviewing Melissa, it's an interesting read about a lady who is passionate about the outdoors and has proven to be proficient in taking on challenges in some extreme environments. 
For obvious reasons, our favorite part of the article was when she was asked the following question:
Q: We have seen on your Instagram you are a fan of survival knives, what is your favorite knife to use outdoors and why?
... 
A: Nowadays it's hard to choose a favorite because I find myself constantly testing new knives each week. I currently carry the
Drop Point Renegade
by Fiddleback Forge most often.
We have a ton of respect for Melissa and the hard work she puts in to be an ambassador to our industries...both in the outdoor industry and her support of knife-making. We are honored she mentioned us and that she enjoys carrying one our knives.
To read the whole article, click here.
You may have also noticed in the latest season that took place in Africa, Melissa was carrying a sheath by Diomedes Industries. As you know, Jason at Diomedes Industries is a long time friend of Fiddleback Forge and it's awesome that he was featured so prominently on the show. Diomedes (of course) makes leather sheaths for Fiddleback Forge knives, and they're available at Fiddleback Outpost.
---
Photos of Melissa were from her Instagram account.
---
---
Leave a comment
Comments will be approved before showing up.