New T-shirts Have Arrived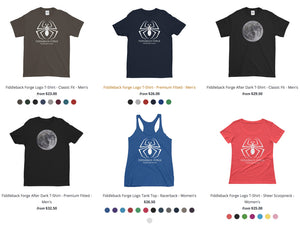 We have been bombarded over the years with requests for t-shirts and other swag. Until now, it just hasn't been feasible to create many designs. With the new website structure, we're now capable of offering a nice variety of gear.
We've launched a new "Apparel Collection" on the website. We will add new products and designs as we have them available. To start with, we created a set of T-shirts with the Fiddleback Forge spider logo™. There will be future designs that will be limited editions, like the new After Dark t-shirt. We will also have new products beyond just t-shirts in the near future.
Let us know what you think of the new selection of apparel!
---
---
Leave a comment
Comments will be approved before showing up.