Fiddleback Friday 10/21/22 - Video Preview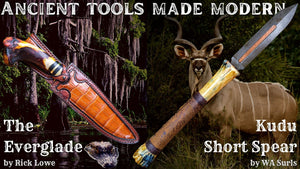 Fiddleback Friday for 10/21/22
All New Knives Post on Fridays at 9PM EST
Fiddleback Friday for 10/21/22

For as long as people have been walking the Earth. We've made tools from the bones of animals. Some of those tools were used in every day life, and some were made into hunting tools themselves. So it is no wonder that even after humans reached the iron age, they still used tools made from the bones, hide, and other part harvested from animals. Modern knife makers are no different, often using natural materials as their ancestors once did. There is something primal in us that still finds these tools to be both wondrous, and useful. We're drawn to the beauty of the natural material, much in the way that we're drawn to the great outdoors.

We have a few such examples of modern knife makers paying homage to our roots and ancestry. We also have more modern knives, influenced from other eras and regions. And then there are the complete modern knives, still made to do the most basic of human tasks... whether it's bushcraft, or food prep.

Turns out, the more things change, the more they stay the same.

All New Knives Post on Fridays at 9PM EST

Fiddleback Friday is hosted on our website at:
fiddlebackforge.com/friday

To see all of our currently available handmade knives, go to:
fiddlebackforge.com/knives

Here are the knives posting on October 21, 2022 for Fiddleback Friday!

Fiddleback Forge Models include the Bushfinger, Duke, Bushcrafter Jr & Bushcrafter. We also have Fiddleback Family knives: J.B Knifeworks Pro Hunter & 8" Chef & Paring Combo, W.A Surls Hiawassee & "The Kudu Spear", Ocmulgee Knife Co Skinner, Edge Knife Works Kiridashi, Kwaiken, Ronin & Japanese Kiritsuke and MW Steel Works Kestrel, 6" Chef & Lion Killer and Rick Lowe "The Everglade."
Video Timeline:

00:00 Teaser
37:49 This Is The End My Friends
Link to this video: 
https://youtu.be/QVtQXdpd7K4
---
Subscribe to this YouTube Channel and see our other videos at: YouTube.com/fiddlebackforge?sub_confirmation=1
---
Follow Fiddleback Forge on Instagram:
Instagram.com/fiddlebackforge
---
Fiddleback Forge's Facebook page:
Facebook.com/fiddlebackforge
---
---
Leave a comment
Comments will be approved before showing up.