Fiddleback Friday 10/28/22 - Video Preview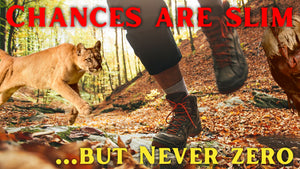 Fiddleback Friday for 10/28/22
All New Knives Post on Fridays at 9PM EST
We introduced the Lion Killer Knife a few weeks back and some questioned whether a knife like that was still useful today. Well, as you can see lion attacks may not be common in the USA, but mountain lions may have something to say about that! We're also introducing a new model from Duckhead Forge, the Orc Slayer...whatever that means.

All New Knives Post on Fridays at 9PM EST on our website at:
fiddlebackforge.com/friday

To see all of our currently available handmade knives, go to:
fiddlebackforge.com/knives

Here are the knives posting on October 28, 2022 for Fiddleback Friday!

Models include the Hiking Buddy, Leuku and Patch & Recluse Combo & More. We also have Fiddleback Family knives: J.B Knifeworks Little Layman, Lion Killer & "One off" Camp, W.A Surls Chestatee, Duckhead Forge Orc Slayer and MW Steel Vireo.
Video Timeline:

00:00 Intro
00:13 Mountain Lion Attack
00:33 Another Mountain Lion Attack
00:50 The Orc... What?
01:02 Start of In Hand
01:20 Duckhead Forge, LLC
02:08 Duckhead Forge Orc Slayer
03:03 JB Knifeworks Lion Killer
04:31 JB Knifeworks Camp Knife
06:18 JB Knifeworks Little Layman
07:45 WA Surls Chestatee
08:53 MW Steel Works Vireo
09:53 Fiddleback Forge Combo - Patch & Recluse
11:45 Fiddleback Forge Hiking Buddy
12:45 Fiddleback Forge Leuku
13:59 How to Get It
14:51 Subscribe!
15:08 Bloopers
15:39 Truly, The End
Link to this video: 
https://youtu.be/_kMWg7j2G0o
---
Subscribe to this YouTube Channel and see our other videos at: YouTube.com/fiddlebackforge?sub_confirmation=1
---
Follow Fiddleback Forge on Instagram:
Instagram.com/fiddlebackforge
---
Fiddleback Forge's Facebook page:
Facebook.com/fiddlebackforge
---
---
Leave a comment
Comments will be approved before showing up.