Fiddleback Friday 3/25/22 - Video Preview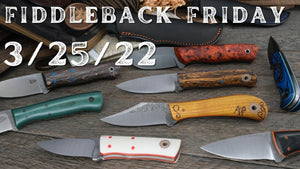 Fiddleback Friday for 3/25/22
New Knives Post on Fridays at 9PM EST
Fiddleback Friday is hosted on our website at:
fiddlebackforge.com/friday
To see all of our available handmade knives, go to:
fiddlebackforge.com/knives
Here are the knives posting on March 25, 2022 for Fiddleback Friday!

Models include the Lonestar EDC, Thorne, Hiking Buddy, Pocket Kephart & More. We also have Fiddleback Family knives: Warlander Enterprises Mink & Badger, and Ocmulgee Knife Co. ODC & Shiloh.
Video Timeline 
00:00 Teaser
00:17 Intro - Hammer-In at Trackrock, Blade Show TX, etc.
01:32 Fiddleback Forge Thorne
02:17 Fiddleback Forge Pocket Kephart
03:05 Fiddleback Forge Lonestar EDC
04:01 Fiddleback Forge Hiking Buddy
04:58 Ocmulgee Knife Co ODC (Ocmulgee Daily Carry)
05:56 Ocmulgee Knife Co Shiloh
06:51 Warlander Enterprises Mink
07:48 Warlander Enterprises Badger
08:46 How to Get the Knife of Your Dreams
10:19 This is the End
Link to this video: 
https://youtu.be/yCDY7kLEd2M
---
Subscribe to this YouTube Channel and see our other videos at: YouTube.com/fiddlebackforge
---
Follow Fiddleback Forge on Instagram:
Instagram.com/fiddlebackforge
---
Fiddleback Forge's Facebook page:
Facebook.com/fiddlebackforge
---
---
Leave a comment
Comments will be approved before showing up.