Fiddleback Friday 4/10/20 - Post Release "Preview"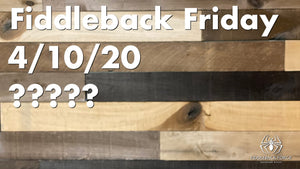 Fiddleback Friday for 4/10/20
We couldn't get the video preview done in time before tonight's release, it's just been too crazy of a week! We are, of course, are still having Fiddleback Friday AND still working AND still shipping knives!
No video tonight, BUT WE HAVE AN IDEA. How about if you are still on the fence about a knife tonight...REPLY TO THIS EMAIL IF YOU WANT TO SEE ANY KNIFE WE HAVE IN STOCK IN A VIDEO SHOWING IT IN HAND. We'll put together the requested knives into a shorter video and post it up for you in the next day or so.
In the meantime, make sure you saw the photo preview we sent out yesterday, so you can at least see the killer photos!
To see the photo preview of tonight's knives, go to: https://fiddlebackforge.com/blogs/news/fiddleback-friday-4-10-20
Models include the Runt, Daimyo, Gunstock Bushcrafter, Big Sneaky, EDC, Talon, Babyboot, Bushcrafter Jr, Bushfinger, Femme Fatale, Emperor & More.   We also have apprentice knife: Warlander Enterprises Forester.
Knives post Fridays at 9PM EST
Fiddleback Friday is hosted on our website at: https://fiddlebackforge.com/collections/fiddlebackfriday
Subscribe to our YouTube Channel and see our other videos at: http://YouTube.com/fiddlebackforge
---
Follow Fiddleback Forge on Instagram:
http://Instagram.com/fiddlebackforge
---
Fiddleback Forge's Facebook page:
http://Facebook.com/fiddlebackforge
---
---
Leave a comment
Comments will be approved before showing up.