Fiddleback Friday 4/16/21 - Video Preview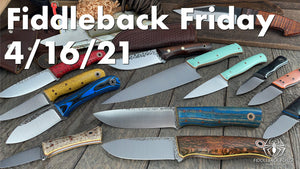 Fiddleback Friday for 4/16/21
New Knives Post on Fridays at 9PM EST
Fiddleback Friday is hosted on our website at:
fiddlebackforge.com/friday
To see all of our available handmade knives, go to:
fiddlebackforge.com/knives
Here are the knives posting on April 16, 2021 for Fiddleback Friday!
Models include the CR-1, Leuku, Pocket Ninja, F2, Esquire, EDC II, Solo, Runt, Bushcrafter, Pocket Kephart & More. We also have apprentice knives: J.B Knifeworks Layman and American Gyuto & Paring Combo, Warlander Enterprises Lynx and W.A. Surls Raptor XL.

Video Timeline
00:00 Intro
00:12 Group Preview
01:13 How to get a Fiddleback Knife
02:25 Changes Coming!
03:00 Warlander Enterprises Lynx
04:33 JB Knifeworks Layman - M4!!
07:09 JB Knifeworks Kitchen Set - American Gyuto & Paring Knife
09:35 WA Surls Raptor XL
10:50 Fiddleback Forge Leuku
11:44 Fiddleback Forge Bushcrafter
12:41 Fiddleback Forge CR-1
14:34 Fiddleback Forge F2 (Fish & Fowl)
15:48 Fiddleback Forge EDC II
16:45 Fiddleback Forge Esquire
17:23 Fiddleback Forge Solo
18:15 Fiddleback Forge Pocket Kephart
18:55 Fiddleback Forge Pocket Ninja
19:36 Fiddleback Forge Runt(s)
20:49 Links
21:08 End
Link to this video: 
https://youtu.be/mlHnmq_MsyI?sub_confirmation=1
---
Subscribe to this YouTube Channel and see our other videos at: http://YouTube.com/fiddlebackforge
---
Follow Fiddleback Forge on Instagram:
http://Instagram.com/fiddlebackforge
---
Fiddleback Forge's Facebook page:
http://Facebook.com/fiddlebackforge
---
---
Leave a comment
Comments will be approved before showing up.