Fiddleback Friday 4/26/19 - Video Preview (cancelled)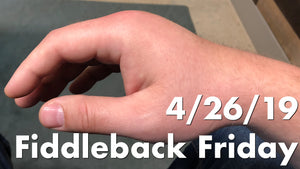 Fiddleback Friday for 4/26/19
As you can guess from the deformed hand in the pic, there is no "in-hand" video for Fiddleback Friday, April 26, 2019!
Robert usually performs the hand modeling for the weekly videos...but his latest gout attack yesterday is proving to be an issue in getting that accomplished. Since his right hand is basically useless at the moment, it won't be putting on a show today!
But don't worry, all is not lost...you can see the picture preview here:
https://fiddlebackforge.com/blogs/news/fiddleback-friday-4-26-19
---
---
Leave a comment
Comments will be approved before showing up.
---
Also in Fiddleback Forge Videos