Fiddleback Friday 7/3/20 - Video Preview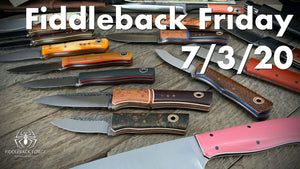 Fiddleback Friday for 7/3/20
Knives post Fridays at 9PM EST
Fiddleback Friday is hosted on our website at: https://fiddlebackforge.com/collections/fiddlebackfriday
To see all of our available handmade knives, go to: https://fiddlebackforge.com/collections/available
Link to this video:
https://youtu.be/tAKizqjnEX0?sub_confirmation=1
---
We're showing the newest release of Fiddleback Forge handmade knives for Fiddleback Friday, July 3, 2020! You'll get to see how each Fiddleback Forge knife looks in hand using various grips, as well as all the details of each model.
Here are the knives posting on July 3, 2020 for Fiddleback Friday!
Models include the Bushboot, Pocket Kephart, Hiking Buddy, Pack Rat, Bushraptor, F2, Kephart, Bushcrafter, Bushfinger, Needle, Emperor, Chief & More.   We also have apprentice knives: J.B Knifeworks American Gyuto and Warlander Enterprises Scoter.
Subscribe to this YouTube Channel and see our other videos at: http://YouTube.com/fiddlebackforge
---
Follow Fiddleback Forge on Instagram:
http://Instagram.com/fiddlebackforge
---
Fiddleback Forge's Facebook page:
http://Facebook.com/fiddlebackforge
---
---
Leave a comment
Comments will be approved before showing up.