Holiday Gift Guide: How to Choose a Knife to Buy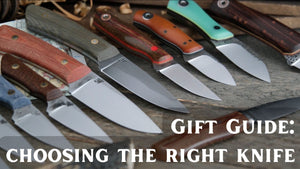 10% OFF Through December 1, 2022!!
FiddlebackForge.com/All
Buying a knife for someone else can be a daunting task. How do you know what to get? Well, we've tried to break it down into a simple process. Whether you are looking for a gift guide for that outdoorsman in your life, a gift guide for EDC (Every Day Carry) lovers, a gift guide for kitchen knives for that chef in your life... or just want to find something that YOU like... you're in the right place.
Video Timeline:
00:00 Intro
00:39 What type of knife should you buy?
01:06 Kitchen Knives
01:29 Kitchen Knives - Western Chef Knife
02:17 Kitchen Knives - Japanese Chef Knife
03:22 Kitchen Knives - Vegetable Knife (Nakiri & Santoku)
04:42 Kitchen Knives - Specialty Knives (Slicer & Cleaver)
05:29 EDC Knives (Every Day Carry Knives)
05:43 What makes an EDC Knife?
06:24 EDC Knives - General Purpose
06:58 EDC Knives - Gentleman's Carry
07:51 Outdoor Knives
08:36 Sheaths for Knives
09:24 Difference between Bushcraft Knife and Hunting Knife
10:06 WOAH! Knives
11:31 See what is available
12:02 The End
Link to this video:
https://youtu.be/iXU40AYOUFM

---

Subscribe to this YouTube Channel and see our other videos at: YouTube.com/fiddlebackforge

---

Follow Fiddleback Forge on Instagram:
Instagram.com/fiddlebackforge

---

Fiddleback Forge's Facebook page:
Facebook.com/fiddlebackforge
---
---
Leave a comment
Comments will be approved before showing up.