Trackrock Hammer-In, Spring 2022 (Video)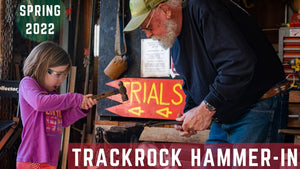 [video link below]
Robert attended the 40th Trackrock Hammer-In at Trackrock Campground & Stables in Blairsville, GA. It's a semi-annual get together of the best knife-makers in Georgia with the goal of sharing the love of blacksmithing and metal working to the general public. The Hammer-In is held twice each year, in the Spring and Fall.

It's an absolute must for anyone in the Fiddleback Family to attend, with friends coming in from far and wide... sometimes from across the country! Many of the knife-makers that you know from the extended family from Andy of Fiddleback Forge, Joey Berry of JB Knifeworks, Allen Surls of WA Surls Knives, Scott Davidson of Solid Rock Knives, Paul Brach, Carl Rechsteiner, Scott Garrison, Russell Reece of Cohutta Knife Co., Amy Valerious of Warlander Knives, Lee Dykes of Ocmulgee Knife Co, and more, regularly attend and help teach various skills to eager attendees! While Blade Show TX this year being held the same weekend meant quite a few of the enthusiasts typically at the Hammer-In were missing...this Hammer-In was unique in the shear amount of attention each attendee was able to receive from the makers on hand.

We hope you enjoy the look into the Trackrock Hammer-In, and we hope to see you there in the future!
---

Subscribe to Our YouTube Channel
---
---
Leave a comment
Comments will be approved before showing up.